WWE Hall of Famer Booker T. recently did an interview with Chris Van Vilet and the two discussed Booker's time in WWE and what it was like wrestling The Rock, his wife Sharmell, and Goldberg coming into WWE. 
After Vince McMahon bought WCW in 2001, many of it's top superstars made the move to wrestle for Vince McMahon's WWE. Many of WCW's big names such as Sting, Goldberg, and Hall & Nash had contracts with Time-Warner which WWE could not assume or compete with. A great deal for those guys. Booker T ended up thriving in WWE, one of his first big feuds was with The Great One, The Rock. Booker went into more detail with Chris about his famous feud with McMahon's top dog, next to only Stone Cold Steve Austin, and Undertaker during the height of wrestling's Monday night wars.
If fans were watching and paying attention to what WWE's creatives were trying, you have to consider they acquired some big names, one of which was Booker T who would prove instrumental for their WCW/ECW invasion storyline. Rock and Booker were in a WWE ring when he asked the WCW champion Booker T. "Who are You."  Chris asked Booker if he ever took offense to those comments by Rock, his response "No, I've never been offended by anything in wrestling because it's wrestling. It's not real; it's what we make it. We're entertaining fans. That's part of his character when talking about The Rock."
Don't forget Booker was part of a major feud with Stone Cold Steve Austin as well, when you reflect on that as a fan, how awesome of an opportunity for Booker to work with two of wrestling's biggest stars ever and with respect to him a big star for WCW and soon to be for WWE.
Who could forget the time when Booker and Austin fought in a Supermarket Brawl. Booker went on to say in the interview, "The thing is I wish it would've been my shtick. I wish I stole a lot of his lines!" He's serious because for he's never been a hater of the Rock.
Booker opened up about another WCW/WWE star by the name of Goldberg. Goldberg wasn't a wrestler Booker said. He explained that he felt Goldberg was still so green even over everybody in a wrestling locker room. Then just like that, Goldberg had the best entrance. He was the one making more money and Booker naturally wanted to have that spot. Booker and Goldberg are friends and he doesn't blame him for it. Booker discussed how his finishing move which was called the Book End was similar to The Rock's Rock Bottom. Those similarities were brought up to add to their feud. When asked who had the finisher first, Booker said he did.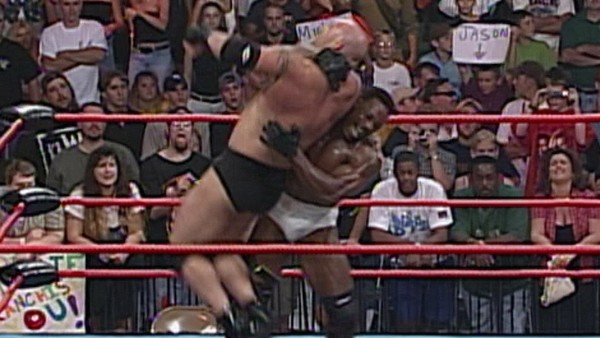 Booker discussed while still in WCW, he and Sharmell started dating and the two would marry after Booker was working in WWE. It did not take long for Sharmell to become an on-screen character and manager of her real-life husband Booker T. Booker admitted there was a point during the timeframe of 2005-2006, when he was going to quit WWE. Booker was going to leave the business and it was due to Sharmell. They had just gotten married and Booker did not want to be on the road while Sharmell was at home. He talked to WWE about it, they said "Why don't we hire Sharmell?" I was like, "That will solve a whole lot." They hired Sharmell and then she started to come on the road. That's how King Booker and Queen Sharmell got started. Booker calls Sharmell Queen all the time. Booker credits Sharmell for being an essential part of the success to that storyline in WWE, while he was anointed King because of winning the King of the Ring tournament in 2006. It transformed his entire gimmick during the time. Thanks to the couple's popularity with the new gimmick, Booker was able to win the WWE World Heavyweight Champion which made him a Grand Slam Champion. Booker said he made King Booker and that's how his legacy will be remembered. Booker recalled that being just a great time in his career just to be able to go out there and perform. No question, Booker T. had so many tremendous highlights.
Credit quotes from Booker T. and the Chris Van Vilet Show:
Who's a fan of Booker T? How about King Booker and Queen Sharmell? What about his classic feuds with The Rock and Stone Cold Steve Austin? Which is your favorite?