I personally love going back and watching older professional wrestling shows. I wanted to review WWF, now WWE SummerSlam, from 1996. It was live from the Gund Arena in Cleveland, Ohio. We as wrestling fans can remember such an event all because SummerSlam was known as being one of WWF's biggest pay-per-views. The tag-line for SummerSlam was Opposites Attack!
The two key storylines going into SummerSlam that year were about Mankind and Undertaker's ongoing feud and Vader challenging WWF World Champion Shawn Michaels. In fact the video package starts by showing fans what events had transpired that lead up to the infamous "Boiler Room Brawl" between Undertaker and Mankind along with Vader managed by Jim Cornette going after "HBK" Shawn Michaels with his trainer in real-life José Lothario, not to mention some other very notable matches on the card for that Sunday night August 18th, 1996. Let me just say I always found those opening video packages to be top notch by then WWF now WWE whoever they got to narrate those was awesome, never forget a voice such as that.
Vince McMahon, Jim Ross, and Mr. Perfect, we're our commentators. McMahon to me has always been underrated as a play-play announcer and JR is a Hall-Of-Famer, one of pro-wrestling's best when calling matches whether it's play-by-play or color commentary. Mr. Perfect Curt Hennig was also underrated as a color commentator especially if Vince wanted that good heel commentator and because he wrestled. Perfect can give the audience terrific analysis of exactly what the moves and holds were and what their job description was.
Let's discuss those matches in order and I'll give you my personal opinion on what from my own perspective I enjoyed and things that well, I didn't.
Free For all Match: Stone Cold Steve Austin vs. Yokozuna
To be fair I watched SummerSlam 1996 on the WWE Network and for some reason this match was edited out. Still important to include a result for it. Stone Cold Steve Austin defeated Yokozuna.
Second Match: Savio Vega vs. Owen Hart
Owen at the time won a slammy award and proudly carried such a reward with him. Reviewing older pay-per-views like this one, helps us as fans remember the wrestlers who have since passed away, but also thankful we have the memories of those we cheered and supported. Did not realize how much I missed Owen till I watched this back. Owen also had a cast on his arm.
Savio Vega had been that wrestler from my vantage point that was a great worker in a wrestling ring. When you add Owen to a match it's going to be great and add Savio even better. It speaks volumes to both men's natural ability in the ring. Savio's strategy was working over that injured arm of Owen, which is intelligent considering if he is indeed injured. Savio would control early on for this matchup. Then we see a video of Vader with Jim Cornette who is managing him. Owen, like Vader, was part of the heel Camp Cornette stable. Vader is shown lifting dumbbells while they are hyping him getting ready for his WWF Championship opportunity later that night against Champion Shawn Michaels. Normally Cornette is out with Owen ringside, but the way they presented it was Cornette needed to stay with Vader to help him focus on his big main-event match, which I found very interesting and also could see why they were doing it. The story was about how Vega was proficient with staying on Hart's arm with armbar submissions. Owen was one step ahead of Vega, and he started regaining control of the match. My takeaway was Owen made some of wrestling's basic moves look so effortless that's just how good Owen was. Clarence Mason would come out during this match. Then we get near falls by both wrestlers, Savio's head hits Owen's cast from a suplex off the top rope, and then Owen being such a clever heel used his cast as a weapon and applied his patented finishing submission hold the Sharpshooter with Vega. Owen defeated Savio Vega.
Afterwards Justin "Hawk" Bradshaw aka JBL with Zeb who was Dutch Mantell came out. Zeb cut a promo on Savio. Then Bradshaw attacked Vega in the isle-way heading back towards the entrance way.
Dutch Mantell is one of wrestling's greatest minds and he could talk with the best of any of them. Dutch knew how to get his talent over a former wrestler himself not to mention also Mantell was an experienced booker, very underrated as a manager. Bradshaw we know how great his career ended up being later on.
Todd Pettengill in the Boiler Room to tell fans about Undertaker battling Mankind. It's very dark and ominous inside such a room. Mankind says, "There's no place like home." How good was Mick Foley as Cactus Jack, Mankind, and Dude Love? Foley reinvented his gimmicks much like Undertaker did throughout their respective careers.
3rd Match Four-Way Elimination Match for the WWF Tag-Team Championship:
The Rockers vs. The BodyDonnas vs. The Godwin's with Hillbilly Jim vs. The Smoking Gunns with Sunny
Billy Gunn against Henry Godwin to begin the match, how awesome getting to see these two big men battle it out. Great selling by Billy and Henry is a powerhouse. I truly had forgotten just how big and larger than life wrestlers could be till I watched this particular match. Zip aka Dr. Tom Prichard is one of wrestling's best trainers not to mention wrestlers too. He faced Phineas, another mountain of a man. There was a specific spot in this match where both the Body Donnas and Godwin's were clever enough to have Billy and Bart have to actually face each other, of course that did not last long. My takeaway whole concept peaked my interest with a four-way tag team elimination type match. The BodyDonnas were eliminated thanks to Marty Janetty tripping Zip. Speaking of The BodyDonnas, Skip & Zip were tremendous however the gimmick was just terrible. Skip aka Chris Candido was a fantastic worker. Another fascinating detail was this version of the Rockers did not consist of Shawn Michaels, but of Marty Janetty and Leif Garrett who is Al Snow.
Godwin's had a brawling style both guys could bump in the ring. Slop Drop by Henry Godwin eliminated the Rockers. Bart deserves credit for his contributions to wrestling, but thanks to getting knocked out by famed boxer Butterbean damaged whatever long-term plans WWF had for him. Very unfortunate circumstances considering creative direction when booking such a contest for Bart. One could tell right away that Billy was destined to be a singles superstar later on he would become in his career. Sunny is a very attractive woman, even as a kid I noticed who wouldn't let's be honest the woman was hot. Here's one thing I learned, Sunny was very talented in managing tag-teams or like a valet. I still put her as manager. She was not afraid to get involved, by distracting the referee. When it looked like Henry and Phineas had won, Bart is able to hit Phineas with a double-axe handle and helps Billy pin him to retain the WWF Tag-Team Championship by eliminating The Godwin's.
Sunny could talk on the mic and her lines were men wanted her and how the men in the crowd needed to look at the woman beside them. Then a picture of her comes down and appears above the fans.
Then we see a video of WWF Superstars taking in the sights of Cleveland. My favorite moments were Jerry "The King" Lawler at the Cleveland Indians Baseball Practice and The Undertaker with Paul Bearer giving away a funeral home oh how fitting, pretty funny stuff to take in when reviewing it.
Doc Hendrix interviewed Psycho Sid. To me Sid was great whether he's a baby face or heel. His psychology also was second to none. Loved his promos as you could see Sid tap into that psychotic persona with his facial expressions and everything. If I had to choose Sid made a better bad guy just my opinion. As wrestling fans sometimes we forget how great of a run he had while in the WWF.
4th match The British Bulldog vs. Psycho Sid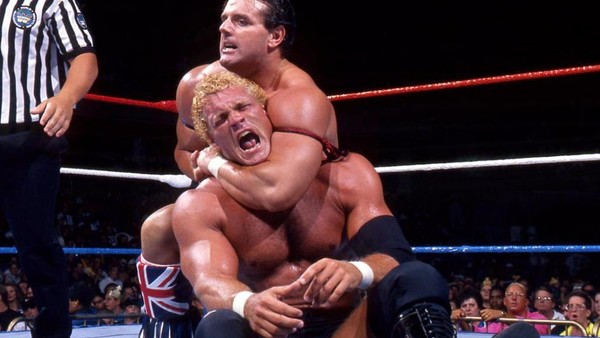 Once again how huge was Sid as a monster but apparently here Sid had been a good guy going up against a heel Davey Boy Smith. Sid dominated early by clotheslining Bulldog. The fans were definitely behind Sid. Sid and Bulldog wrestled down on the mat and gave this match a very different feel. When I think of Sid as a brawler I did not expect that. The British Bulldog had such incredible strength, suplexing an opponent the size of Sid was impressive and also having enough strength to just stand there and hold him up in the air. After that there was another video of Jim Cornette coaching Vader while he is working out. Remember the Bulldog is part of Camp Cornette but yet again he's not out there. Sid makes a big comeback with such a powerful offense against Bulldog only he got over zealous by going to the corner too much. A running power slam executed by The British Bulldog looked as if this match was over. He had it won only for Cornette to come out at ringside to argue with Clarence Mason, which distracted Bulldog and Sid took advantage and choke slammed Bulldog to win the match, a good match I thought.
We get an In Your House promotional video featuring a guy sitting on his couch with hot girls and aliens. I'm just going to leave it at that, another fascinating thing about their advertisements during that era. I found humor in it.
Interview segment Todd Pettengill
Todd interviewed The "WildMan" Marc Mero with Sable, they talked about how Mankind called Sable his mommy. I laughed when they showed a video detailing the events that lead up to Mankind doing this. He would come down ringside and scare Sable saying "Mommy!" Then Mero addressed his opponent Goldust and he couldn't understand all his mind games.
5th Match: Goldust vs. Marc Mero
Goldust brought an element of theatrical mind games when looking at his overall presentation, another reinvention with a gimmick that Dustin Rhodes pulled off quite well. Becoming, embodying, and embracing the creative to become such a weird, almost bizarre character.
Mero had speed against the ropes as another former WCW guy who was looking for a fresh start in WWF after he had been known to wrestling fans as the very charismatic "Johnny B. Badd" with that company at the time. Mero went to a technical game plan when combatting a bigger, taller Goldust. One pivotal mistake and a match can quickly change, and it would favor Goldust after Mero took a big back body drop over the top rope. Goldust was vicious and aggressive, dropping Mero's throat on the steel guard railing. Then Mankind comes out and confronts Sable, scaring her by saying "Mommy!" which was very a entertaining interaction here. Referees come out to stop Mankind and he runs away. Mero finds his rhythm by hitting Goldust with a back elbow off the top rope. Then later on with a flying clothesline by Mero and a back body drop to follow. Mero dumped Goldust on the outside, and then Goldust took a big bump and they both ended up on the floor. Mero looked to finish Goldust by hitting a shooting star press called wild thing. Unbelievable athletic ability and agility exhibited by Mero to pull such a move off like that. But to everyone's surprise Goldust kicked out. Marlena distracted the referee, and a Curtain Call on Mero meant Goldust wins.
Goldust stalked Sable in front of Mero and Mero put Goldust on the top rope then proceeded to drop-kick him off the top rope and Mero clotheslined Goldust in the aisle-way. A very good match because Goldust is a terrific worker and Mero gave you all the outstanding athletic moves from the top and over the ropes. Mero took risks to try to win matches. These guys had chemistry when wrestling one another.
Farooq attacked Ahmed Johnson who suffered an injury to his kidneys. Ahmed was being built up to be in a prime spot as a mega star for the WWF, unfortunately for him it did not work out long-term. Gorilla Monsoon who acted as WWF's storyline commissioner during this time made an official announcement about how the WWF Intercontinental Title would be vacated. They showed video segments of Kevin Kelly interviewing Johnson and his nurse being interviewed. Ahmed was committed to his fans. For him it was about honor and pride. Farooq and Sunny were interviewed in the ring with Todd Pettengill. The basis of this particular storyline was centered around Farooq's feud with Ahmed Johnson. Farooq thought Monsoon was the Intercontinental Champion. Monsoon had also made the announcement that there would be a tournament to determine a new Intercontinental Champion. Sunny put Farooq up as a real man, a gladiator, and she told Gorilla to have your tournament, Farooq will be your next Intercontinental Champion. Ron Simmons is a great wrestler, it's just this Farooq gimmick was bad. To his credit his talent got him through it.
6th Match: Jake The "Snake" Roberts vs. Jerry "The King" Lawler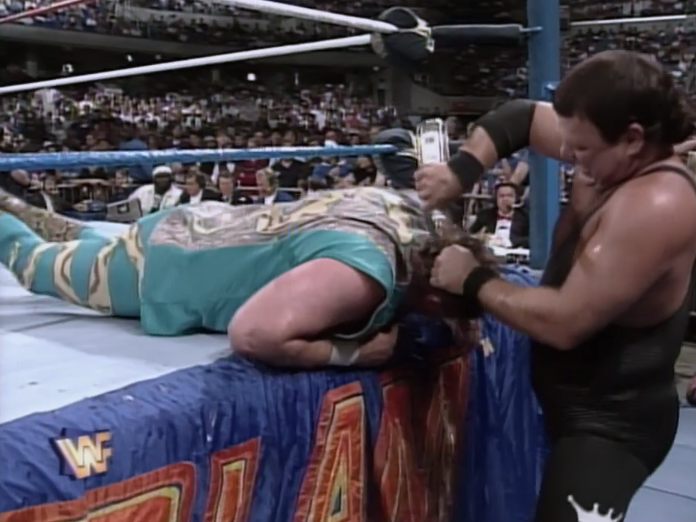 King had fun at the expense of Jake's real life issues with alcohol. Lawler is one of wrestling's greatest talkers and with a segment like this one it only proved that. If I'm honest, I personally never liked bringing people's real-life problems into storylines. Regardless Jake had to okay it for them to be able to do it.
Legendary ring-announcer Howard Finkel introduced everyone to "The World's Strongest Man" Mark Henry, which was a very cool moment. I miss "The Fink." What an iconic voice there will never be anyone like him. Mr. Perfect talking with Mark Henry at the commentary table added a fantastic element to the show. Lawler had a bag mocking how Jake carries a bag that had his pet snake named "Damien."
King wore a Baltimore Ravens jersey getting heat from a crowd in Cleveland who are fans of their hometown team the Cleveland Browns in the NFL. Interesting to see Harvey Whippleman refereed this match. Whippleman was known as a great manager as well. He and Lawler knew each other well going back to Memphis where Lawler was so over and popular and eventually ran the Territory with Jerry Jarrett. Harvey Wippleman was then known as "Downtown Bruno." Jerry had gifts for Roberts, he pulled out Jim Beam and Jack Daniels bottles and insulted Jake's wife and his drinking addiction. King made fun of Mark Henry poking fun at him participating in the Olympics. Jerry Lawler could cut great promos. Roberts had those expressions and fantastic psychology. Lawler stalled by talking. Jake chased Lawler and took it to King, with a low blow and then a slam. King used a soda from ringside and threw it in Jake's eyes. He grabbed the alcohol, Jerry countered Roberts DDT by using a back body drop. The Snake struck by nailing Lawler and he went down. Lawler grabbed Harvey, and the King hit Jake in his throat with a bottle and won the match for Lawler. Then Lawler gets back on the mic to deny any wrongdoing. Jerry Lawler then forced Jake to drink the alcohol by pouring it down his throat. Mark Henry stops the King, chased Lawler away and Henry would help Roberts. Not a bad match but must admit even with two legends not my favorite.
Wrestling legend Bob Backlund was in the crowd campaigning which came out of nowhere but respect to Backlund who no doubt was a great wrestler.
7th Match: The Boiler Room Brawl The Undertaker vs. Mankind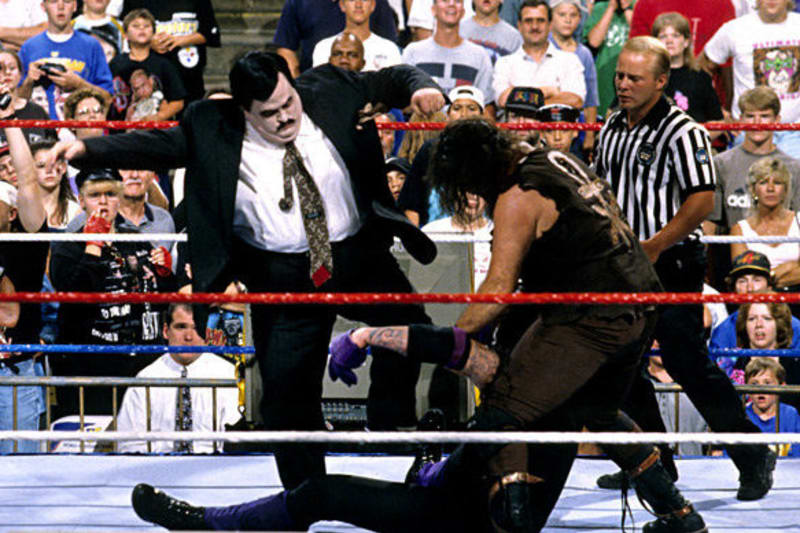 Paul Bearer came down the aisle toward the ring carrying the urn. I miss Paul Bearer one of the greatest managers and characters ever! Oh yesss!
Back to the boiler room where The Undertaker was searching for Mankind. It's so dark in there with naturally very little lighting in the ominous room. Nice build up to before they start to fight. Mankind snuck up behind Undertaker and hit the phenom with a pipe. How about hitting Undertaker in the head with a board? The Deadman hit Mankind with a trash can lid and hit Mankind with a pipe. They continue to brawl, there's a stunner on a wood stand by Mankind. The cameras suddenly went out at one point. One thing I should mention is I forgot about Mankind squealing like a pig during such a brawl. Undertaker hit cleanup countering Mankind's trash can with a fire extinguisher. No commentary which seemed weird but it just dropped out at times, but every now and then you could hear them talking. Mankind delivered a piped low blow ouch on Undertaker. Talk about unique, this whole concept was wild. Mankind hit him with a big knee into a security door then we hear crowd noise. Some notable spots going on here. Mankind climbed a ladder, dropped a forearm or maybe a shoulder drop on Undertaker from the ladder.
Both started fighting toward the exit door. Another extinguisher by the Undertaker to Mankind, then after that Mankind closed the door on Undertaker. He even tried blocking him in. Taker broke free and even other wrestlers are cheering as they continue fighting in the hallway, I mean both men are using everything from tables to Mankind even throwing hot coffee on Undertaker. Mankind made his way into the arena, and then Undertaker hit Mankind with a 2 by 4. They brawl getting closer to the ring. This fight continued in the aisle. Taker threw those big fists at Mankind. Mankind used a TV monitor to take Undertaker out. Bearer waited in the ring with the precious urn. Mankind delivered a piledriver to Taker on the floor. I'm just floored by how dangerous the bumps that both Mankind and Undertaker took during this brawl of a match. Mankind started to get in the ring but Undertaker had a hold of his ankle. They fought on the ring apron, and Taker sent Mankind to the floor. Taker made it into the ring finally. He went down to one knee, however Bearer was rather hesitant and that allowed Mankind to apply his mandible claw to Undertaker. Paul Bearer is laughing, enjoying Mankind inflicting pain to Taker which surprised fans who thought he was Undertaker's friend and who had been his manager. Then Bearer does the unthinkable by turning on the Undertaker, he slapped and kicked the phenom. To make matters worse he nailed the Undertaker with the urn of all things. Then evil Paul Bearer hands over the urn to Mankind for the win.
Paul Bearer how could you betray The Undertaker? Seriously did not see that coming with the Bearer turn and aligning with Mankind. The whole Boiler Room Brawl went too long, but I was left entertained and the whole Bearer turn helped make it better.
The lights then went out, there was a gong and voices of druids. Let me say as a fan, those kinds of segments always found a way to draw me into Undertaker's gimmick. Druid's helped the Undertaker out of the ring and then his theme music played just for a little and suddenly quit.
Doc Hendrix interviewed Vader with Jim Cornette. By pairing Vader with a manager, a personality like Jim Cornette with his experience seemed logical. Cornette's promos are legendary and this one was no different and he did his job by getting his guy Vader over. He talked about how Vader had already pinned WWF Champion Shawn Michaels. I'm a huge Vader fan, I mean just look at his matches over in Japan and WCW. One of the best men in pro-wrestling. Unfortunately for him he didn't have quite as much of a successful run with WWF. Don't get me wrong between his debut and certain matches his run was not all for not. Vader found success I truly believe it came down to their perception of him. His run should have been better. Something didn't click for him and the WWF.
Main-Event Match WWF World Championship Match: Vader vs. WWF Champion Shawn Michaels.
Vader was accompanied by Jim Cornette while Shawn was joined by the man who broke him into wrestling the great Jose Lothario.
Vader paired with Cornette seemed right, the big man interacting with the fans. He became the gimmick Vader did. To say Shawn was over would be an understatement. Michaels was one of the best ever especially during 1996. I realized Shawn had a terrible attitude and not many wrestlers liked him. Michaels along with his friends in what was known as the Click had a negative fan reaction and from what other wrestlers say a bad reputation backstage in the locker room for stirring things up and having Vince McMahon's ear. With that being said, Vince sure got excited when his champion came out and during his entrance I've never heard him get quite as excited until this match. HBK had an exciting entrance and the women loved the Sexy Boy which in fact was true to his gimmick.
Vader and Shawn locked up a few times, a few nice body shots on Michaels by Vader, and that is vintage Vader intense, in your face, pounding. Vince McMahon referred to Vader as the Mastodon, thankfully Vader was able to still be called Vader but it did not stop McMahon from occasionally saying it when talking about Vader. Can anybody sell like Michaels hey Mr. Perfect? On commentary there's few who could sell better. Vader delivered a nice stiff clothesline to the champion. Michaels hit back with a nice leg sweep. He was doing some pretty amazing innovative moves and maneuvers and then he'd just kick the big monster Vader. Shawn showed off, hammering the challenger while on his knees. Michaels countered Vader and picked him up. The Heartbreak Kid was too quick and went to the mat causing Vader to over pursue over the top and down went Vader. Michaels drop-kicked Vader under the bottom rope. Incredible all I can say when watching this match.
Michaels hit a beautiful cross body block over the top rope on Vader. Then Michaels chased heel manager Jim Cornette away and sent Vader back into the ring. A double axe handle followed by a hurricanrana, both well executed by Michaels. Shawn got on the number one contender's shoulders and hit Vader sending him over the rope with his legs. Vader caught Michaels with a nice power bomb on the floor. Vader picked up Michaels and carried him up the ring steps to dump Shawn back into the ring. Vader dominated in the corner slapping Shawn and gave the champion a massive beat down with those relentless show no mercy body shots. Vader executed a suplex with authority on HBK followed by a big blow to Michaels chest. Vader sent Shawn Michaels into the corner and then Vader sent Michaels over the top rope and he went outside. Vader landed a headbutt and a big back body drop on Shawn, and the height of the move was awesome. Michaels fought back only for Vader to pull his long hair. Michaels is punched Vader. Vader missed in the corner but he hit an impressive clothesline.
Michaels was so elusive and went over the top rope, but then Vader picked him up and threw him down on the mat. Vader applied a nice modified choke, a sleeper submission hold on the champion. Michaels got back to his feet and fought his way out with a knee and clothesline but Vader did not go down. Vader got hit in the lower area and Michaels clotheslined Vader down on the mat. Michaels went to the top he was planning on hitting Vader with a flying elbow drop but Vader was not in the right spot. Shawn Michaels was irate and fussed and kicked Vader in the head. He yelled at Vader to move, Shawn was having a temper tantrum. It was uncalled for, hey I'm a fan of Shawn's but if you call yourself a professional there was no need to embarrass Vader. I've often heard many say maybe Vader could not hear but there was a definite miscue with that spot. Miscommunication led to an unfortunate incident in the match. Michaels own momentum carried Vader over the top rope. Vader press slammed Michaels on the guard railing on the outside floor. Then Vader got back inside the ring.
Vader won by count out, then Cornette grabbed a mic and says wait a minute stop the music, they want to restart the match because Vader could not win the title by a count out. Cornette insulted Michaels by calling him gutless. Referees helped Michaels; but he didn't want Lothario's help either. Vader went after Shawn and attacked him. A Racket shot by Jim Cornette to the back of Michaels and then Vader splashed Shawn in the corner following that up with a belly to belly suplex but Michaels kicked out. Vader bomb on Shawn but again he fought out of it. A flying forearm by Michaels and a flying elbow by Shawn on Vader and he started to tune up the band for sweet chin music which is the super kick, Shawn's finisher. Cornette interfered and threw Vader his racket and Michaels decked Cornette off the ring apron. Michaels hit Vader with Cornette's racket and he beat Cornette with his own racket. Vader won by disqualification, and Cornette had the microphone again. He claimed Michaels did a DQ on purpose, and Cornette told Shawn you knew you could not beat him, but I'm paraphrasing, I do remember every word verbatim.
Gorilla Monsoon then came into the ring, and had them restart the match. Shawn attacked Vader with a forearm, an elbow drop, and a superkick but Vader still kicks out. Hebner the referee was down after Michaels accidentally hit him. Vader hit a Vader Bomb on Shawn and another referee came in to make the count only for Michaels to kick out. Cornette told Vader to go up top for a moonsault but he missed when Michaels moved out of the way. Michaels then hit a backflip on Vader to win and retain the WWF Championship. Other than miscues I still felt this was a good match.
Well there you have it folks my review of WWF SummerSlam 1996. I hope everyone enjoys reading it.