Hey Buzz Fans, well after an exciting month of January, we've got lots to look forward to in the upcoming months. I recently wrote a piece covering the lightweight division, and after the monster cards we witnessed at Fight Island in January, I had a lot to write about.
The month of April would appear to be another upcoming blockbuster month for the UFC and the Middleweight division. The only difference is I'm going to lay out for you guys my thoughts about who's fighting and who I think will win. As we all know the Middleweight Champion is the unbeaten Israel "The Last StyleBender" Adesanya, and at least three of the other fighters I'm going to breakdown for you, he has already beaten. Ladies and Gentleman Adesanya is just that good, and the scary part is that he literally gets better with every fight. The last fight he was in was slated to be a "Fight of the Year" type fight…it ended with him embarrassing Paulo Costa, but we'll get to that.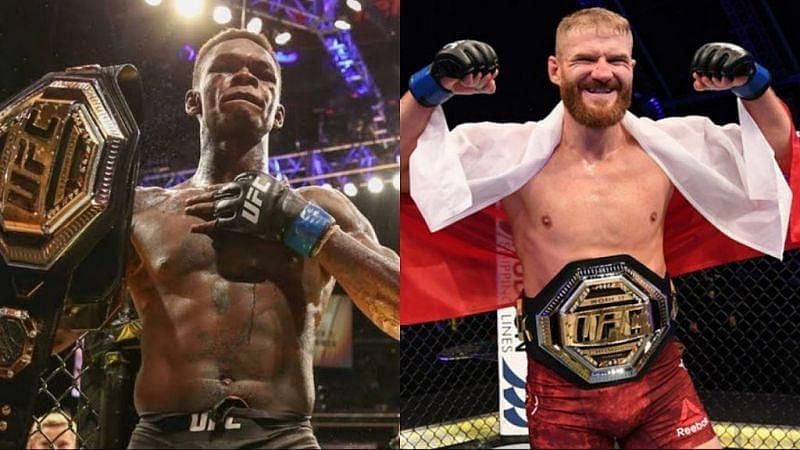 Izzy has decided to move up to Light Heavyweight and fight current L.H champion Jan Blachowicz at UFC 259 on March 6, 2021. Now he won't be putting his Middleweight belt on the line but will be fighting for the L.H belt. I feel really bad for Jan Blachowicz, who once again is coming in as an underdog fighting a much smaller man. I feel even worse for Glover Texiera, who has worked his way back to the top of the Light Heavyweight division. He's in line for a title shot, and now he's playing second fiddle to the Adesanya-Blachowicz fight. To be honest I also think that Glover has a better shot of beating Jan than beating Izzy IF Izzy beats Blachowicz.
But getting back on topic, now that Izzy is moving up, there's talk of an interim Middleweight title fight, and the two up for that title are former champ Robert Whittaker taking on the man to last take a beating from Adesanya, Paulo Costa. As stated before, Costa was on a terrorizing run, beating everyone in his path UNTIL he got the title shot. The news just broke this week that on April 17th these two men will meet but it's still not sure if they will be fighting for an Interim.
Whittaker, in my eyes, is one of the toughest men in the UFC, beating a murderer's row to get the Middleweight belt, and now on a two-fight win streak after beating Darren Till and just recently Jared Cannonier. This does have the potential to be a great fight, especially if Costa gets his way and draws Robert into a slugfest. But smart money says that he makes this a technical fight and slowly picks Costa apart. This is not to say Whittaker can't swing with the best of them, because he definitely can, but if he chooses that route I would have to say it will be a short night for "Bobby Knucks."
Just one week before this fight we've got another Middleweight contender bout with Darren Till and Marvin Vettori that could play a big part of this "interim belt" talk. Darren Till, since moving to Middleweight, has gone 1-1. He's beaten Kelvin Gastelum in his debut fight, then fought Robert Whittaker in his second fight and lost the decision. Since moving up in weight he's looked tremendous even in the losing effort to the former champ. But when you look at the man he's fighting, Marvin Vettori, who is on a four-fight win streak, has apparently come out of nowhere.
He stepped in on short notice and defeated Jack Hermansson in fashion at UFC "Vegas 16." To throw another wrench into the plan, if you look back at Marvin Vettori when he fought Israel Adesanya, a lot of people (including myself) thought Vettori won that fight. Adesanya got the decision and Vettori hasn't lost since that fight. So in this fight, I can't really call a winner or loser, it's a pretty even fight, both are good strikers but if I did have to give anyone an edge it would be Vettori. He also has elite level wrestling and I think that could come into play, but Till has also shown that he's not easy to keep down, so you can flip a coin on this one.
These are the main fights I wanted to mention if we are talking title fight contention, but I would be remiss if I didn't mention the "Fighter of the Year" Kevin Holland. He will be fighting Middleweight top contender, Derek Brunson, a man who has fought the very best in this division and has been a mainstay in the top ten rankings of the division.
He's done it all except win the gold in the UFC, and I would have to say if he doesn't beat Kevin Holland I seriously doubt he'll get another shot. Kevin Holland is the only Middleweight to win five consecutive fights in one year and I have to think that his streak will continue after March 20th, 2021 on UFC Fight Night 188. He's just on such a streak, last fight being possibly the greatest knockout I've ever seen, folding Jacare Souza up like a lawn chair. His power is huge and his speed with that power makes him a very dangerous man in that octagon.
So I leave it up to you guys, how are the next two months gonna play out in the Middleweight Division?