Wrestling star Rey Mysterio is staying longer with WWE, so fans will get to see the legend still competing for years to come. Now the specific details of the deal have not been made known to the public. However Mysterio told Sports Illustrated that he signed a new deal with the company. 
Here are some highlights from that interview with SI:
"We never made the signing of my new deal public, but he assured everyone that we are definitely going to be seeing more of the masked superstar in WWE." Mysterio also said that, "I'm going to keep wrestling, at least until Father Time catches up and says, 'It's time to go.'"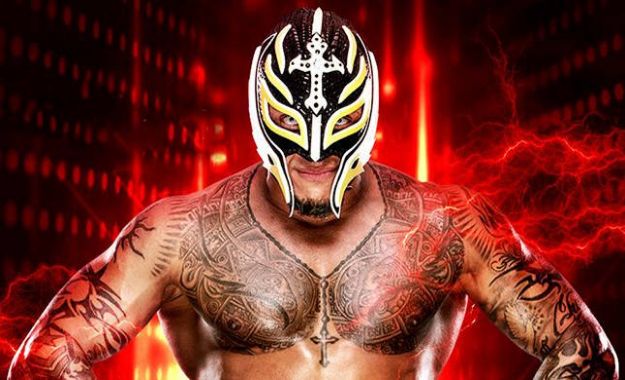 Rey Mysterio Jr. was a pro-wrestling revolutionary, all dating back to his humble beginning with Lucha-Libre in Mexico. Mysterio took his talents over to Japan then later the United States. Mysterio changed not only style but the perception of how wrestling had been in the U.S. The famed Luchador started out in wrestling for AAA back in Mexico. He arrived on the scene there in 1992 at the age of 17, where right away you knew he wasn't like any other wrestler the world has seen before all due to his unique and unmatched athletic ability in the ring. 
Rey was a true showman in between the ropes. Mysterio at age 46 signed with WWE originally in 2002. Mysterio continued to excel and get even better during his earlier runs working for Vince McMahon. Rey was so compelling and very innovative to witness whenever he wrestled in a match. What was intriguing when you would watch Mysterio was how he presented himself with a mask, something that has been long rooted in Lucha-Libre culture and also part of the heritage going back to pro-wrestling in Mexico. One of Rey's greatest accomplishments to date has to be the fact that he main-evented for WWE in a mask and being of small stature, Mysterio broke down barriers for other Luchadors inspiring them on a global stage that they can also follow their dreams of being a main-event star in the biggest wrestling company.
Rey left WWE in 2015. By leaving, it opened up new opportunities for him which allowed Mysterio to make a return to AAA, and also work for Lucha Underground, New Japan Pro Wrestling, as well as the Independent circuit and headline All In in 2018. Mysterio would make his comeback to WWE in 2018. This was so important for Mysterio and his family, as it gave him an opportunity to share the ring with his son Dominik, and his wife Angie, and daughter Aaliyah. Dominik would make his in-ring debut by facing Seth Rollins at SummerSlam. These two had a very good match. Both Rey and Dominik were in this year's Royal Rumble match. Dominik played a big part in why Rey decided to re-sign with WWE.
"I am so happy to see my son Dominik doing so well, and it means so much to me to be with him in WWE," said Mysterio. "When I left WWE in 2015, I was tired, and I was beat, I was going through a phase in my life where I just needed some time off." For Mysterio that time helped him to be recharged as he put it.
"During that period, I was given time to think about what I wanted to do for the rest of my life. I sat down with my wife and kids, and we decided together as a family that it was time for me to return to WWE. I am thankful for such an opportunity and I knew my son wanted to get into wrestling." Mysterio wanted to open that door for his son Dominik. Mysterio talked about how WWE treated him so well, like he never left, and how he is so grateful and he went on to say how truly blessed he was for that alone. "I'm under WWE wings once again, they've seen the potential in Dominik and they know he has a bright future."
Mysterio participated in last Sunday's Royal Rumble. What was cool about the whole thing is that Rey entered the match wearing all-new gear which included a mask that was sponsored by Victoria Beer. Mysterio on their collaboration said, "it's an iconic beer that has been around for a long time," and in his opinion it's the best beer in Mexico. Mysterio elaborated and said, "this is a chance to represent my heritage and culture, and his new mask symbolizes that point."
Rey and Dominik are both on the SmackDown brand. Many options are still on the table for the father and son duo, even a chance to go after the tag-team championships. Family will always be Mysterio's top priority and it's illustrated through the new mask he wears. "The mohawk on my new Victoria mask is a throwback to what my uncle used to wear in the early 1980's on his mask," Mysterio explained. "Before coming back to WWE, I knew that I needed to change my outfit, and I wanted to do something different." Rey commented that he used to wear these baggy pants, "but my son Dominik had always been a big fan of the tights. He thought they looked dope, so I ended up going back to the tights. I changed up my look a little bit, and I really wanted to include the mohawk. That was big for me growing up as a wrestling fan. The mohawk makes this particular new mask stand out so much more."
Who's a Rey Mysterio fan? Leave a comment below.