It's time for another top 5 list! My top 5 players of each NFL franchise continues now with the top 5 Atlanta Falcons of all time! You can find my other lists on The Buzz along with tons of other great content from the world of wrestling, sports, and entertainment. Here are my top 5 Atlanta Falcons of all time.
Honorable Mentions
Michael Vick, Quarterback, (2001-2006)
A classic case of what if. Vick was on the road to being one of the best quarterbacks in the league and way higher on this list but dogfighting was his downfall and he never really got back on track after returning to the NFL. Vick's career 11,506 yards passing are fifth in franchise history with 3,859 rushing yards, good for sixth in Falcons' history.
Roddy White, Wide Receiver, (2005-2015)
Roddy White is second in team history in receiving yards with 10,863, but first in receptions (808) and receiving touchdowns (63). White was a four-time Pro Bowler, First Team All-Pro in 2010 because he was the league's reception leader, and a member of the Falcons Ring of Honor.
Keith Brooking, Linebacker, (1998-2008)
After being selected with the 12th overall pick in the 1998 draft, Brooking played his first 11 seasons in the ATL, amassing 11 interceptions, 17 sacks, and 882 tackles (third-most in franchise history). He went to the Pro Bowl five consecutive seasons (2001–05) — all as a member of the Falcons.
5.) Jessie Tuggle, Linebacker, (1987-2000)
Tuggle was a five-time Pro Bowler, three-time All-Pro, had the most tackles of any player during the 1990s, and was nicknamed "The Hammer" for how hard he hit opposing players. Tuggle was only able to even make the roster as a rookie thanks to a series of injuries in 1987 camp. Let's just say that Tuggle made the absolute most of his illustrious 14-year NFL career spent entirely with the Falcons. After serving in a reserve role in his first two years in the league, Tuggle would emerge as a starter in 1989 and never looked back.
4.) Matt Ryan, Quarterback (2008-Present)
Ryan is the all-time leading passer in Atlanta Falcon's history with 53,367 yards and 333 Touchdowns and still growing as he looks to still have a few more years left in the tank. Whether that's with Atlanta or not remains to be seen. He was the first quarterback selected in the 2008 NFL Draft and won rookie of the year the following season. He has been to four Pro Bowls over the course of his career. In 2016 Ryan was the league MVP throwing 38 touchdowns to seven interceptions and leading the Falcons to their second Super Bowl appearance. In 2016 Ryan was named a First-Team All-Pro and was the Offensive Player of the year.
3.) Jeff Van Note, Center, (1969-1986)
From 1969 through 1986, Van Note anchored the middle of the Falcons offensive line. His 18-year tenure with the Falcons is the second-longest in the NFL with one team. A five-time Pro Bowler, Van Note has always been a fan favorite. Jeff is still active with the Falcons, doing post-game radio
2.) Tommy Nobis, Linebacker, (1966-1976)
Mr. Falcon was the first pick in the 1965 draft, and the first player drafted in Falcon's history. Nobis won the NFL Rookie of the Year award in 1966, leading the Falcons with 294 tackles. A five-time Pro Bowler, Nobis deserves to be in the Hall of Fame and would be in the Hall of Fame if the Falcons team had more success during his playing days.
1.) Julio Jones, Wide Receiver, (2011-Present)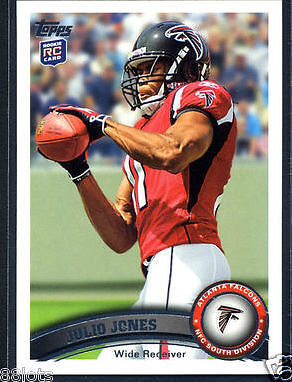 Jones has already been named to a franchise-record seven Pro Bowls and shows absolutely no signs of slowing down. In nine NFL seasons and a total of 126 regular-season outings, Atlanta Falcons' wide receiver Julio Jones has put up amazing numbers, especially the past six years. The franchise orchestrated quite the trade in 2011 to move up to the sixth spot in the draft to grab the former University of Alabama product. Career stats of 828 catches, 12,572 yards, and 59 touchdowns and growing, Jones owns all records in Falcon history but touchdowns and is only 4 away from that record. One of the best receivers in the game today and of all time Jones was an easy choice for number one on my list.