My top 5 greatest players of each NFL franchise continues this time with the Baltimore Ravens. The Ravens have had a good amount of success over the last 20 years or so do to great drafting, player development and great coaching. The Ravens are still built to win to this day which comes as no surprise to me. As a Patriots fan I always dreaded playing the Ravens because of how tough they were to beat. Players such as the ones I list below are why they have been so successful. So, without further adieu I give you my top 5 greatest Baltimore Ravens of all time.
Honorable Mentions
Marsha Yanda, Guard (2007-2020)
Yanda is a Super Bowl champion (XLVII), 2× First-team All-Pro (2014, 2015), 5× Second-team All-Pro (2011, 2012, 2016, 2018, 2019), 8× Pro Bowl (2011–2016, 2018–2019),unanimous NFL 2010s All-Decade Team, Sporting News 2010s All-Decade Team.,PFWA All-Rookie Team (2007) and he's in the Baltimore Ravens Ring of Honor. This guy is an honorable mention with all these credentials just shows you the amount of talent the Baltimore Ravens have had over the years.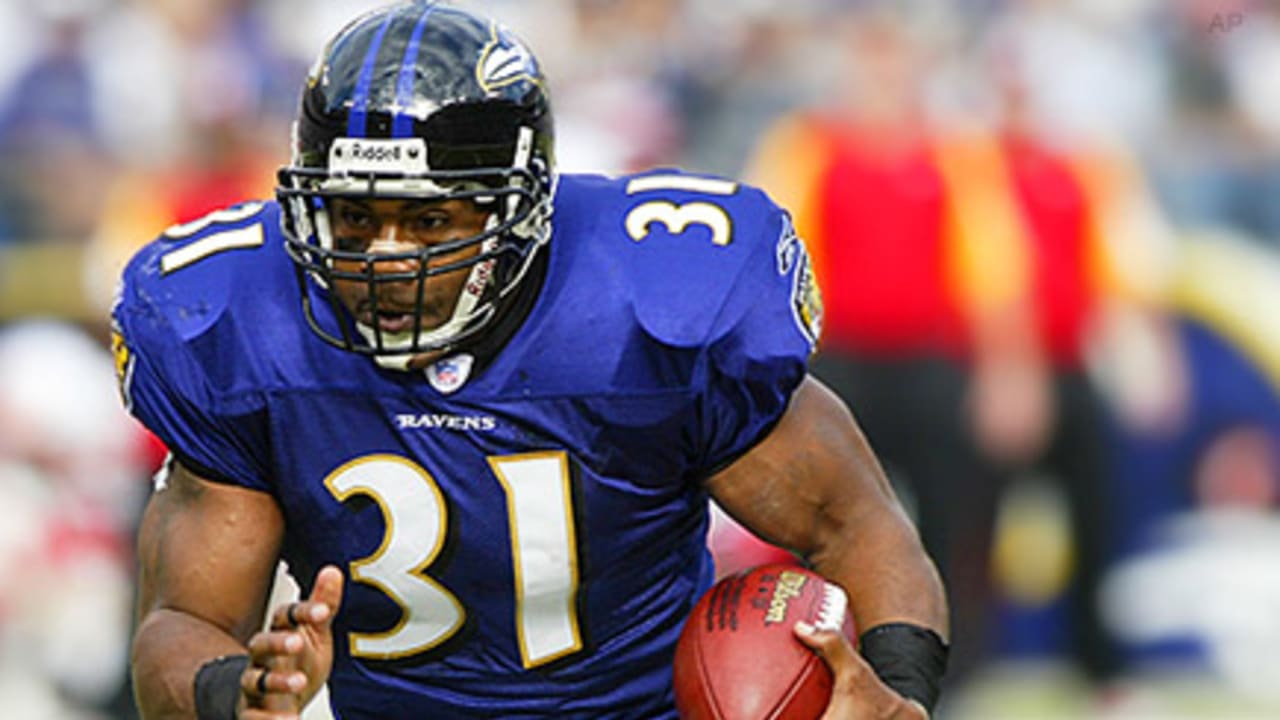 Jamal Lewis, Running Back (2000, 2002-2006)
Lewis leads the Ravens franchise in rushing yards (7,801), attempts (1,822) and rushing touchdowns (45). He belongs on this list based solely off of his 2,066 rushing yards in the 2003 season that was just shy of Eric Dickerson's single-season rushing record. His 295 yards on the ground against the Cleveland Browns that year were a record until Adrian Peterson bested him by a single yard in 2007. Defenders did not want to square up when Lewis was running towards them and to this day he is still considered the best running back in the history of the Baltimore Ravens.
Haloti Ngata, Defensive Lineman (2006-2014)
Having played college football for the University of Oregon and earned consensus All-American honors. Ngata was drafted by the Baltimore Ravens in the first round of the 2006 NFL Draft, and was selected for the Pro Bowl five times. Ngata's numbers might not jump out at you but his presence was felt on the field and in meeting rooms, both for the Ravens and their opponents. In my opinion without Ngata Baltimore wouldn't have won the Super Bowl in 2013.
5.) Terrell Suggs, Linebacker (2003-2018)
Suggs is destined for the Hall of Fame one day and rightfully so. After notching 132.5 sacks over 16 years in the NFL as a Raven, he's one of the best all-around linebackers in the game. Suggs also was known for playing the flats in the passing game, stopping the run and setting the edge. That sets Suggs apart from other edge defenders who either only rush the quarterback or only play against the run. Suggs was also a great leader on the field as well as one of the more vocal Ravens over the years and he never backed away from smack talk. Suggs and New England Patriots quarterback Tom Brady's jawing sessions are some of the most memorable that I can remember. Their can be an argument that Suggs should be higher on this list but before you go there lets so who comes in at number 4……
4.) Joe Flacco, Quarterback (2008-2018)
I can hear it now. NO WAY JOE FLACCO IS THIS HIGH ON THIS LIST! JOSH ARE YOU ON DRUGS? To answer question two, no I'm not on drugs. But to get back to whether Flacco should be on this list let me explain. In his 11 years with the Ravens, he finished with a 96-67 record, throwing for 40,067 yards, 218 touchdowns, and 141 interceptions. Now why the touchdown to interception number isn't "great" Flacco is known for his 1,140 yards and 11 touchdown postseason run in 2012 in which he threw zero interceptions. Flacco played well enough to have the Ravens competitive for most of the ten years he was there and that's why he made this list. Yes, go ahead and hate in the comments I'm expecting it lol.
3.) Jonathan Ogden, Tackle (1996-2007)
The 1996 NFL Draft was one of the best first round hauls in history. Then Baltimore Raven general manager Ozzie Newsome picked up both Jonathan Ogden and Ray Lewis, with the 4th and 26th overall picks, respectively. Ogden went on to play in 11 Pro Bowls. Ogden was also All Pro 4 times and was inducted into the Pro Football Hall of Fame in 2013. Ogden help down the crucial left tackle spot and with him being 6 foot 9 and and 340 pounds it was easy to see why he was so hard to get around. His ability to block at the second level where he would take down much faster linebackers than him due to his great footwork and ability to be where he needed to be. Ogden was a very smart football player and one of the best Baltimore Ravens of all time.
2.) Ed Reed, Safety (2003-2012)
Ed Reed will go down as one of the best safeties to ever play the game. His sideline to sideline speed and the way he covered the whole field was absolutely amazing to watch. Reed still holds several Ravens team records, including most career interceptions (61), most interceptions in a season (9). He also tops the NFL's record book for most career interception return yardage (1,590) and the two longest interception returns (107 and 106). The guy was an absolute machine in the secondary and you were smart to not throw his way. The Ravens had the luxury of having two of the best players at their position on their team for many years which leads me to my number one Baltimore Raven of all time.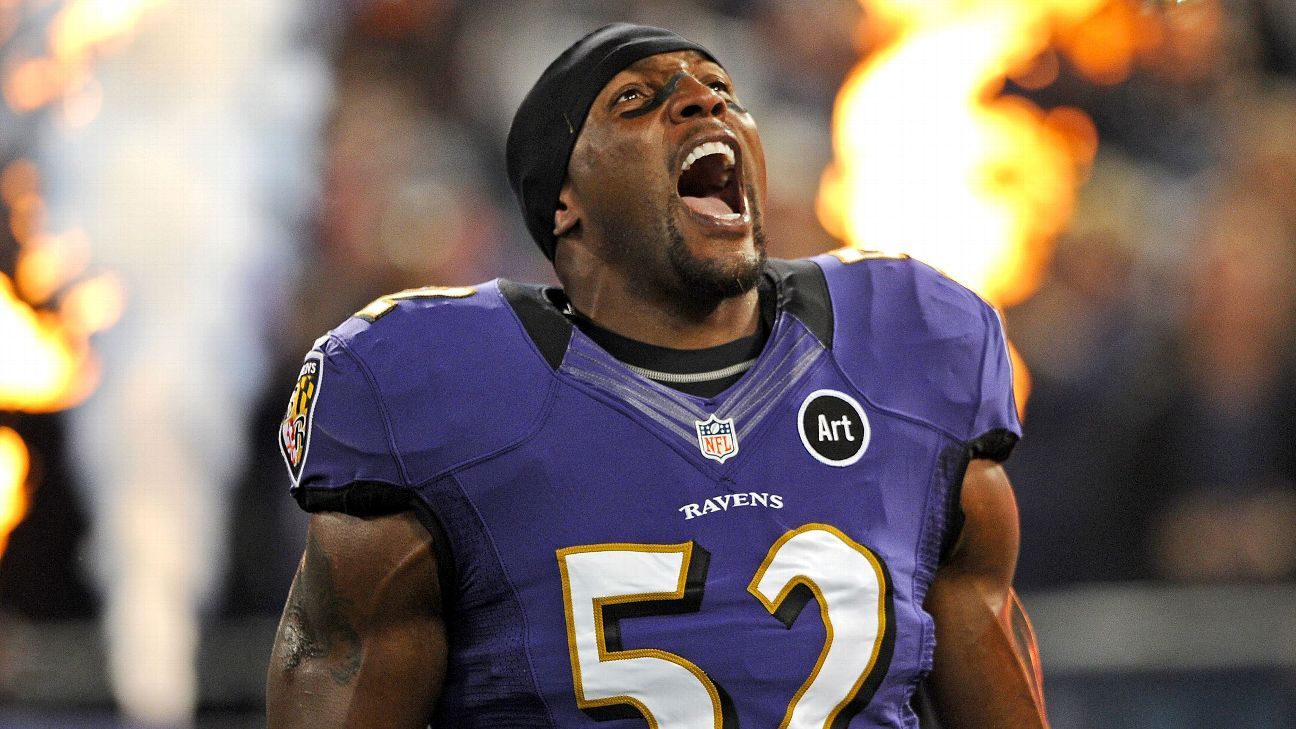 1.) Ray Lewis, Linebacker (1996-2012)
For me Ray Lewis and Ed Reed are 1A and 1B on this list. The gap between these two were razor thin with Lewis just getting the edge. In 2000 Lewis led one of the most dominant defenses in the history of the NFL that gave up just 10 points per game. Lewis was the team leader and always the guy who was their to motivate the team when things weren't going their way. In the same 2000 playoff run, in the Divisional Playoff, Lewis went chest-to-chest against Eddie George in press coverage, before intercepting the football, and heading off 50-yards in the other direction for the game clinching touchdown. From there, Lewis went on to take Super Bowl XXXV MVP honors, and would lead the Ravens to another Super Bowl in 2012 before announcing his retirement. At the time of his retirement in 2012, Lewis held three records with the Ravens – most seasons played (17), most career games (228) and most career opponent fumbles recovered (20). He posted a franchise record 2,643 career tackles, including a single season team-best 225 stops in 2003. Not sure we will ever see another linebacker like Ray Lewis again.
Be sure to go to The Buzz to check out all of my other top 5 articles as well as tons of other great content.