My top 5 "Franchise Greats" lists continue to the windy city of Chicago where I will give you my top 5 Chicago Bears. Before you Bears fans ask no Mitch Trubisky didn't make the cut, :). The Bears are one of the more iconic franchises and have had many great players over the years so this one was one of the more difficult lists to make and required me to do more research on each player and I had to consider the impact each individual player had which I valued more. To clarify making this list was one which I learned about the Bears franchise and all time greats as I studied film and I think with all that research I came up with a respectable list as this team has TONS of great linebackers and they take up most of the list. If you disagree or want to give me any feedback on the article feel free to comment at the bottom of the page. Let's get to my list.
Honorable Mentions
Brian Urlacher, Linebacker (2000-12)
Brian Urlacher was the definition of Chicago Bears football for 13 years. He started 180 games for Chicago and was one of the most athletically gifted defenders in the NFL for his entire career. Urlacher was selected to the Pro Bowl eight times and was named first-team All-Pro four times. He was the NFL's Defensive Player of the Year in 2005 and is the franchise's all-time leader in solo tackles (1,040). Urlacher was inducted into the Pro Football Hall of Fame in 2018.
Mike Singletary, Linebacker (1981-92)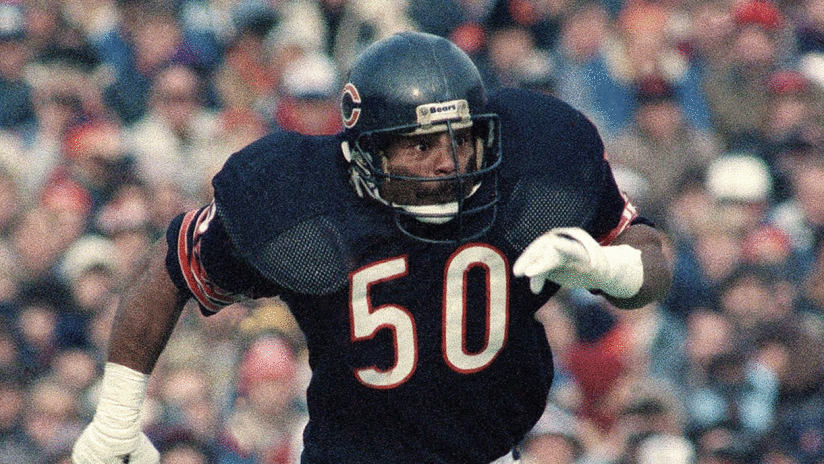 Also known as "Samurai," Mike Singletary was the heart and soul of the 1985 Bears Super Bowl defense. He ended his 12-year career with 172 starts in Chicago that had him earn 10 Pro Bowl bids and seven first-team All-Pro selections. His wide eyes and aggressive style drove what would go down as one of the NFL's greatest defenses of all time. Singletary was enshrined in the Pro Football Hall of Fame in 1998.
Sid Luckman, Quarterback (1939-50)
Luckman is a member of the Pro Football Hall of Fame Class of 1965 and even to this day is the standard by which all other Bears quarterbacks are measured. He played all 12 seasons of his career in Chicago and is second in team history with 14,686 yards and 137 touchdowns and held those records for more than 50 years before Jay Cutler moved to the top of the list. Luckman was a first-team All-Pro five times and the NFL MVP in 1943 and threw five touchdown passes for the Bears in the 1943 championship game. He's still considered the greatest quarterback in franchise history. Rex Grossman would be offended.
5.) Gale Sayers, Running back (1965-71)
If Gale Sayers had played for any other franchise he would most likely be the greatest running back of that team's history. He just happens to play for the same franchise as a guy you might see on my list a little later. Sayers finished with 4,956 yards with 39 touchdowns in an injury-shortened career that unfortunately only lasted seven seasons. When he was healthy he was a first-team All-Pro in each year and was inducted into the Pro Football Hall of Fame in 1977.
4.) Clyde "Bulldog" Turner, Center/linebacker (1940-52)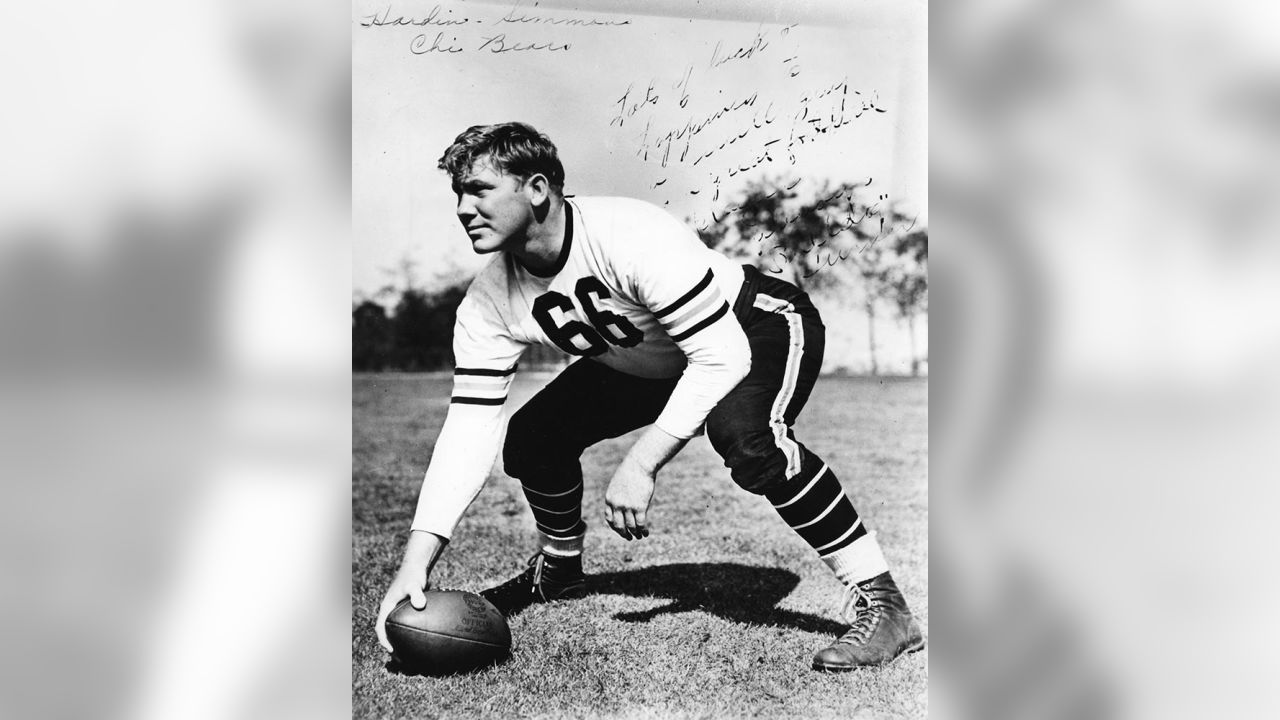 Clyde "Bulldog" Turner was a versatile two-way player for the Chicago Bears. Turner was a ball-hawking linebacker leading the NFL in interceptions (8) in 1942 and was considered one of the best centers in the NFL. He was a seven-time first-team All-Pro and was inducted into the Pro Football Hall of Fame in 1966. Versatility to me is very important as I factor in these rankings and with the importance of each position in the past and present of the NFL this is a huge reason why Turner is ranked fourth in my top 5. Very good player.
3.) Mike Ditka, Tight end (1961-66)
Mike Ditka played for six seasons at tight end for the Chicago Bears, starting 84 games and catching 316 passes for 4,503 yards and 34 touchdowns. His yardage ranks fifth and his touchdowns rank fourth all-time in Chicago Bears history. Ditka became the head coach in 1982 and brought back the toughness and violent defensive style of football the franchise had always had in his playing days. Mike's personality was huge and he was one of the main architects of the 1985 Super Bowl team and for all his accomplishments Ditka was inducted into the Pro Football Hall of Fame in 1988.
2.) Dick Butkus, Linebacker (1965-73)
Even though his career ended prematurely due to a knee injury, Butkus proved to be one of the greatest all-around defenders in league history. He played nine seasons for Chicago and started all of his 119 games with the team and was an eight-time Pro Bowler and five-time first-team All-Pro. Butkus was a 1979 Hall of Fame inductee, deservedly so. Being best known for his power as a hitter, Butkus also had 22 interceptions and 25 fumble recoveries in his career. He is widely regarded as the gold standard for middle linebackers and Butkus set the standard for toughness on the field. His mentality and style of play can be seen in more modern players such as Ray Lewis and former Bear Mike Singletary.
1.) Walter Payton, Running Back (1975-86)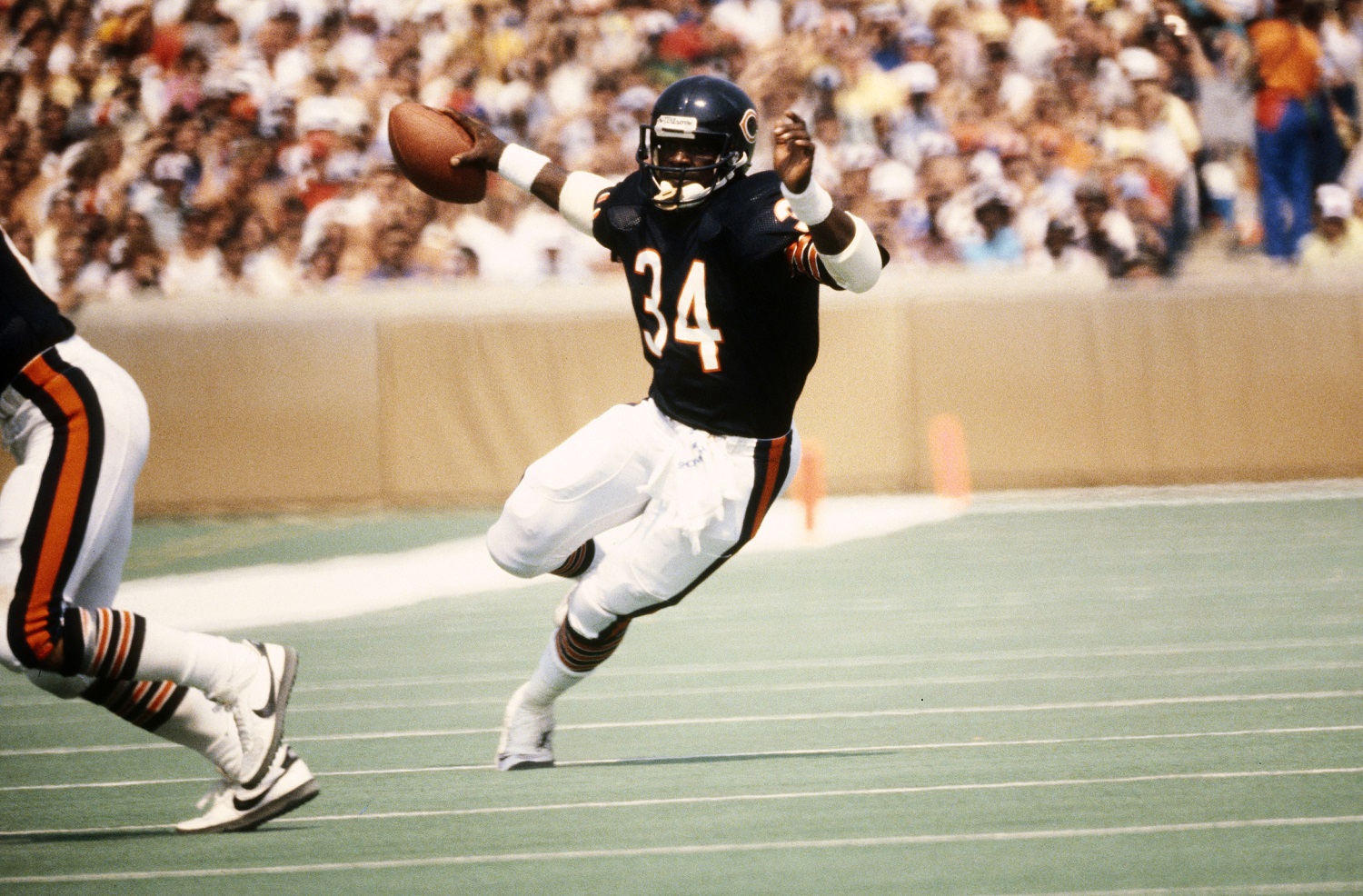 Walter Payton IS the Chicago Bears and one of the best running backs to ever play the game. His No. 34 is synonymous with everything that's great about Chicago sports and resulted in him becoming the NFL's all-time leading rusher by the time he retired. Payton played 13 years with the Bears and totaled 16,726 yards and 110 touchdowns on the ground and had an incredible 77 games with more than 100 rushing yards and was a seven-time All-Pro and nine-time Pro-Bowler. Walton Payton is the definition of the word legend and the Bears or the NFL will never see another player like him.
Be sure to check out The Buzz for all your sports, entertainment and lifestyle needs with our great articles and podcasts.