It's my favorite time of year as the NFL season is set to kick off soon and that means prediction time! Everyone has predictions for their favorite team but I'm going to give you my predictions for all 32 teams, a boom, breakout, and bust player for each, division winners, set up the playoff picture, give the awards out and give you my Super Bowl winner. Yes, yes – you're welcome. This is going to be a loaded article so feel free to comment at the bottom of this page and let me know what you think of my predictions and give me some of your predictions. Let's get to it!
AFC East Winner: New England Patriots
New England Patriots 11-6
Buffalo Bills 10-7
Miami Dolphins 7-10
New York Jets 4-13
New England Patriots
Go ahead laugh. I don't know if people are just stupid or scared because the Patriots are reloaded and ready to go. After spending tons of money in free agency in the off season and reloading, the Patriots are primed to be right in the thick of the playoff chase again. With the drafting of Mac Jones (and so far he looks great) and the improvement of Cam Newton with the additions of Jonnu Smith, Hunter Henry, Nelson Agholor, and Kendrick Bourne plus the pending breakout of Jakobi Meyer and Damien Harris, the Patriots are built to ground and pound, control the clock, and physically dominate you in the trenches on both sides of the ball. Laugh. Just remember to save this article and pull it up in late December as the Patriots reclaim the AFC East.
Boom: RB Damien Harris
Bust: TE Devin Asiasi
Breakout: WR Jakobi Meyer
Buffalo Bills
After a breakout season for QB Josh Allen, I do expect them to take a small step back. I just don't trust the defense. People that know me know I'm not really a big believer in Josh Allen ever being "the guy" that can win you a Super Bowl and yes I know he had a great 2020 season. With now having to play a first place schedule (Chiefs, Colts, Saints, Buccaneers) plus an improved New England and Miami (even the Jets to a point) I don't think it'll be all roses like it was for them last year. I still got them getting in the wild card spot so get your panties out of the bunch they are in. Sorry Bills fans.
Boom: WR Stefon Diggs
Bust: RB Devin Singletary
Breakout: RB Zac Moss
Miami Dolphins
It's all about Tua. Is he their guy at quarterback? The vibe I get is that the Dolphins don't even believe he's their guy which is why they flirted hard with Deshaun Watson most of the off season. The rest of the offense is pretty solid and I like the addition of WR Will Fuller. But Tua is going to be the huge question mark here and I just don't like the fit and I think he's going to struggle again this year. The lack of running game won't help, but the defense will keep them in games, it just wont be enough in a loaded AFC. If they do land Watson, I expect them to go 10-7 and compete for a wild card spot.
Boom: CB Xavien Howard
Bust: QB Tua Tagovailoa
Breakout: TE Mike Gesicki
New York Jets
I don't ever waste my time and I won't with the Jets. I hope the 14-year-old they drafted 2nd overall in the draft does well.
Boom: A losing record
Bust: The Jets Season
Breakout: Fireman Ed
AFC North Winner: Cleveland Browns
Cleveland Browns 12-5
Baltimore Ravens 10-7
Pittsburgh Steelers 8-9
Cincinnati Bengals 6-11
Cleveland Browns
The Cleveland Browns have probably the best roster in the whole NFL. If Baker Mayfield can play well consistently for a whole season and with the return of WR Odell Beckham doesn't disrupt the offense, this team should be damn good. They addressed their needs along all three areas of the defense and the offense can either run the ball down your throat or spread you out and pick you apart passing. I think the Browns are the best bet in the AFC to knock off the Kansas City Chiefs.
Boom: DE Myles Garrett
Bust: TE Austin Hooper
Breakout: WR Donovan Peoples Jones
Baltimore Ravens
Lamar Jackson. Jackson is the most important player on this team. Can this team have an effective passing game? If so, this team could be a Super Bowl contender, if not they are a playoff team at best. I think they land somewhere in the middle of the pack and make the playoffs as a wild card. The Ravens are going to be among one of the best teams at running the ball and will have a top 10 defense. The loss of RB JK Dobbins is a big one, but I think Gus Edwards will step up and you fantasy football players might want to look at him in your drafts. But the answer to one question will likely determine Baltimore's season -will the passing attack come through? That's the question that'll determine their season. Time will tell.
Boom: CB Marcus Peters
Bust: WR Sammy Watkins
Breakout: RB Gus Edwards
Pittsburgh Steelers
Here we go. No, I don't have the Steelers in the playoffs. No, I don't like the Steelers. Certain idiot friends of mine make sure of that. But going unbiased, this team just doesn't have enough. Yes, they'll have a top defense but they also have a quarterback in rapid decline. On top of that, it's almost certain he'll be injured at some point this year and with Dwayne Haskins (LOL) as the backup, it's not going to get any better. Plus your number one receiver is more interested in TikTok than football. I still feel like their defense keeps them in games and Najee Harris is going to be an absolute beast coming out of the backfield. In a loaded AFC the beloved Steelers won't make the cut this year. Use those terrible towels to dry your tears.
Boom: LB Devin Bush
Bust: QB Ben Roethlisberger
Breakout: RB Najee Harris
Cincinnati Bengals
This team is probably a year or two away from legit competing. They have their franchise quarterback but he is coming off of a severe injury so you shouldn't expect him to come out guns blazing this year. The offensive line is still a work in progress and I think taking WR Jamar Chase over a top-tier offensive lineman might have been a huge mistake. The defense should be improved but unfortunately it won't be enough as the Bengals will be in the top 10 of the 2022 NFL Draft and will probably looking for their next coach.
Boom: WR Tyler Boyd
Bust: CB Chidobe Awuzie
Breakout: TE CJ Uzomah
AFC South Winner: Indianapolis Colts
Indianapolis Colts 11-6
Tennessee Titans 10-7
Jacksonville Jaguars 5-12
Houston Texans 2-15
Indianapolis Colts
The Carson Wentz era has officially begun in Indianapolis. A healthy Wentz is the difference between a Super Bowl contender and a .500 team. This team has everything you need to win it all. LT Eric Fisher should help solidify the left side of their offensive line and keep Wentz upright. Health is going to be key for this team and how far it can go. I got them taking the division as I am expecting Wentz to be available most of the season.
Boom: RB Jonathan Taylor
Bust: WR TY Hilton
Breakout: WR Michael Pittman
Tennessee Titans
The Tennessee Titans go as far as Derrick Henry will take them. The addition of WR Julio Jones should help bolster the receiving core and give QB Ryan Tannehill another weapon. As good as Ryan Tannehill has been, it's inevitable at some point the decline will happen. More of an issue for the Titans is their 28th-ranked defense and the biggest addition to it was LB Bud Dupree who is coming off a major injury. How effective Derrick Henry can be down the stretch is going determine how far this team goes.
Boom: WR AJ Brown
Bust: LB Bud Dupree
Breakout: TE Anthony Firkser
Jacksonville Jaguars
The Urban Meyer/Trevor Lawrence is here. I think Urban Meyer as a NFL head coach is going to be an absolute disaster and that's not just because I'm a bitter Michigan fan. I just don't think he's going to make it long in the league as he leaves or retires every two years because of headaches. The defense is going to be terrible and Lawrence will be playing from behind a lot which works well for his offensive rookie of the year chances but not so much winning games.
Boom: RB James Robinson
Bust: Urban Meyer
Breakout: QB Trevor Lawrence
Houston Texans
This roster is horrible and with QB Deshaun Watson potentially missing the season this is going to be a lost year. The Houston Texans will have the first pick in the 2022 NFL Draft.
Boom: The Houston Texans 2022 First Round Pick
Bust: The Season
Breakout: WR Niko Collins
AFC West Winner: Kansas City Chiefs
Kansas City Chiefs 14-3
Los Angeles Chargers 9-8
Denver Broncos 7-10
Las Vegas Raiders 5-12
Kansas City Chiefs
Mahomes. Kelce. Hill. Jones. Andy Reid. Injuries are the only thing that would derail this team. I see them easing into the playoffs and securing a first round bye.
Boom: TE Travis Kelce
Bust: RB Clyde Edwards-Helaire
Breakout: CB L'Jarius Sneed
Los Angeles Chargers
This is probably the hardest team to predict because they have a very talented roster with a quarterback who's going to be a superstar. Health seems to be what always hampers this team as they just seem to always have bad luck. The AFC is just stacked this year and there are about 10 teams that can be in the playoff race. This team could be 12-5 or 7-10 so I have them right in the middle. But if they stay healthy, I wont be surprised if they are right in the thick of the playoff race.
Boom: DE Joey Bosa
Bust: TE Jared Cook
Breakout: WR Joshua Palmer
Denver Broncos
It's the Teddy Bridgewater era is here which means Denver still doesn't have a franchise quarterback and the Drew Lock era is over. I assume they will be in the Aaron Rodgers sweepstakes next off season even though they passed over Mac Jones and Justin Fields this year, just saying. Denver will have a solid defense and has a good assortment of weapons on offense but it is a quarterback league and as much as I like Teddy as a person he just isn't it.
Boom: CB Kyle Fuller
Bust: RB Melvin Gordon
Breakout: WR Jerry Jeudy
Las Vegas Raiders
The Jon Gruden second run in Vegas hasn't worked out. The team hasn't really improved, most of their draft picks have been baffling, and they flirt with every quarterback that becomes available which has to make Derek Carr feel great about his job security. After a last place finish in the division this year ownership will be forced to make a decision about both Gruden and Carr. Just think it's going to be a rough year in Vegas. At least their stadium is nice, right?
Boom: TE Darren Waller
Bust: QB Derek Carr
Breakout: WR Hunter Renfrow
NFC East Winner: Dallas Cowboys
Dallas Cowboys 10-7
Washington Football Team 7-10
Philadelphia Eagles 6-11
New York Giants 4-13
Dallas Cowboys
America's team is back at the top of the NFC East and a big reason is the return of QB Dak Prescott. This offense should be lethal among the top in the NFL the real question is the defense. The Cowboys spent almost all their draft capital on defense so hopefully a few of them pan out. Linebacker Michah Parson is going to be a stud and if this defense can be just middle of the pack this team can be a legit threat in the NFC I just don't see that happening this year. Tony Pollard should start over Zeke too, just saying.
Boom: LB Micah Parsons
Bust: TE Blake Jarwin
Breakout: WR CeeDee Lamb
Washington Football Team
Washington has one of the best front seven in the NFL but possess one of the worst quarterback situations. Ryan Fitzpatrick is an average quarterback at best and with limited weapons on offense this team will probably rank pretty low on offensively. How do they get to my seven win prediction you ask? Their defense is that damn good and they play in the worst division in the league.
Boom: Front Seven
Bust: QB Ryan Fitzpatrick
Breakout: TE Logan Thomas
Philadelphia Eagles
Jalen Hurts has his time to shine now as the starting quarterback of the Philadelphia Eagles and has all the weapons to be successful. Problem is the offensive line the last few years has failed to keep who ever was at quarterback upright and I expect that to be an issue again as well as a low tier defense. If they can get a consistent pass rush that should help but I still think this team is a year or two away from competing even in a weak division. Offense should be able to score points just don't see it being consistent enough to compete for a playoff spot.
Boom: RB Miles Sanders
Bust: TE Zach Ertz
Breakout: WR Jalen Reagor
New York Giants
Not a lot to be excited about if your a football fan in New York this year. Defense will at least be ok and they got nice play makers. Too bad they don't have a good quarterback and because of that they'll be at the bottom of the NFC East this year.
Boom: CB James Bradberry
Bust: QB Daniel Jones
Breakout: Defense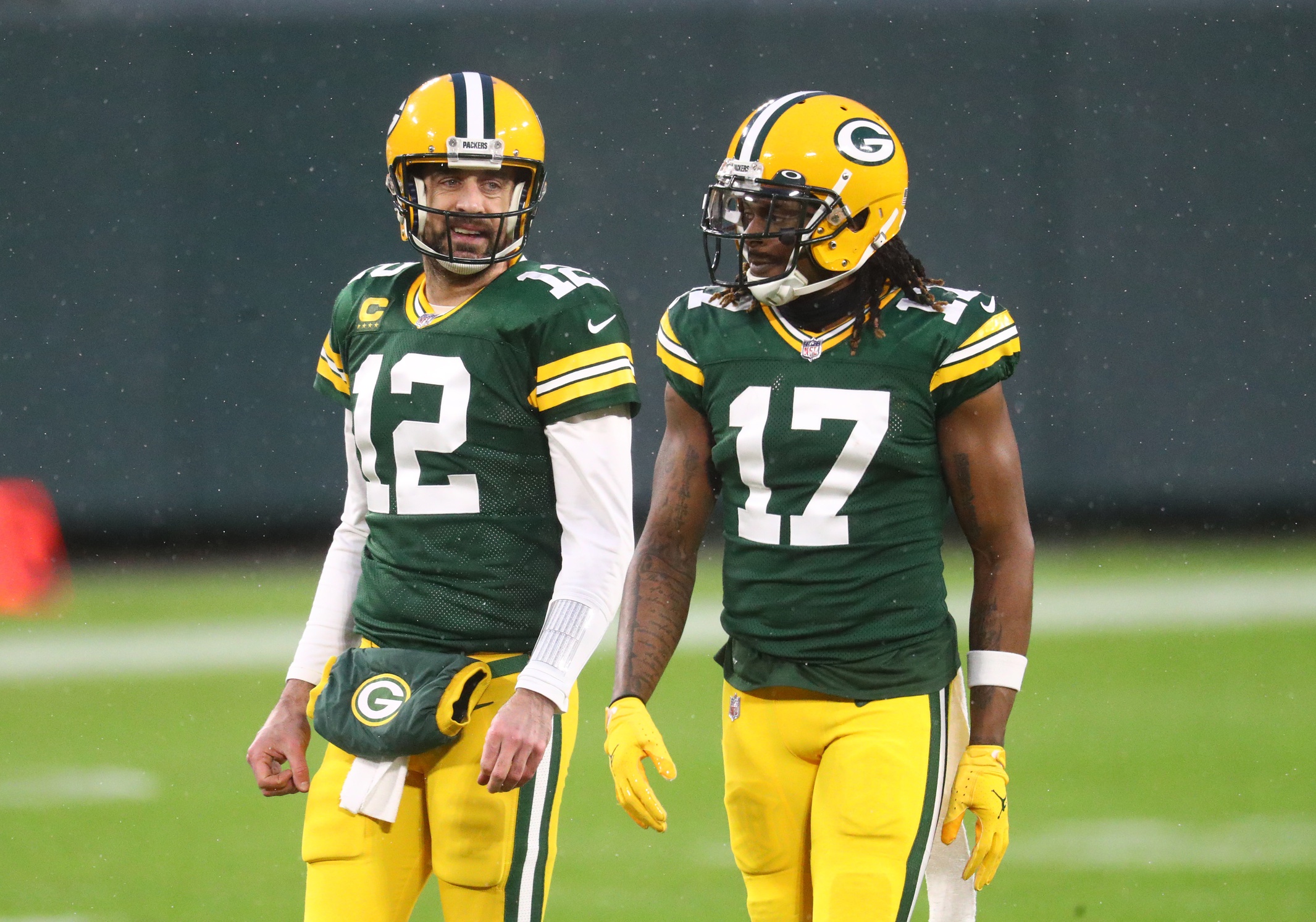 NFC North Winner: Green Bay Packers
Green Bay Packers 13-4
Minnesota Vikings 8-9
Chicago Bears 6-11
Detroit Lions 4-13
Green Bay Packers
This is the end of the Aaron Rodgers era in Green Bay as it might also be the end of the Davante Adams era as well. Rodgers will likely be traded at the end of the year and Adams and Green Bay have been unable to agree to a contract extension. I expect Green Bay to be one of the best teams once again this year in the NFC and Rodgers to be in the running for the MVP. The NFC North is weaker this year than in the past with Minnesota still rolling with Kirk Cousins and the Bears and Lions both rebuilding. I expect the Packers to run away with this division this year with ease.
Boom: QB Aaron Rodgers
Bust: LB Rashan Gary
Breakout: WR Marquez Valdes-Scantling
Minnesota Vikings
The Vikings are one of those teams that could surprise and make a run for the playoffs or bottom out and go 3-14, well I have them right in the middle at 8-9. QB Kirk Cousins is nearing the end especially with the drafting of Kellen Mond but they do still possess one of the best running backs in the league in Dalvin Cook and one of the better receivers in the league in Adam Thielen. I think the defense is okay, nothing special, but Cousins and his famous turnover issues will most likely cost them games and Mond might see the field at some point this season.
Boom: RB Dalvin Cook
Bust: QB Kirk Cousins
Breakout: WR Justin Jefferson
Chicago Bears
So the Bears are really going to roll out Andy Dalton as their quarterback to start the season? I expect Justin Fields to be under center before the month of September ends. Problem is, the Ohio State quarterback tree hasn't been the best one to pick them off of. I do think long term Fields will be a solid starter but I think this year that he will struggle. They need to rely on RB David Montgomery who had a strong finish to the 2020 season but Matt Nagy's pass happy play calling will likely meaning Fields will be airing the ball out a lot meaning turnovers and losses. Chicago enters the 2022 season with a new head coach as they have a underwhelming 2021 season.
Boom: RB David Montgomery
Bust: QB Andy Dalton
Breakout: TE Cole Kmet
Detroit Lions
Out goes Matthew Stafford and in comes Jared Goff. Poor Jared Goff is going to have a horrible season. Bad offensive line no real passing options outside of TE TJ Hockenson and a defense that's going to be pretty bad. The rebuild is on in Detroit.
Boom: TE TJ Hockenson
Bust: QB Jared Goff
Breakout: Punter Jack Fox
AFC South Winner: Tampa Bay Buccaneers
Tampa Bay Buccaneers 13-4
New Orleans Saints 9-8
Carolina Panthers 7-10
Atlanta Falcons 6-11
Tampa Bay Buccaneers
Tampa Bay, fresh off a dominate Super Bowl win, returns pretty much everyone and adds back TE OJ Howard who missed the 2020 season with injury. QB Tom Brady will have tons of options in the passing and running game and this team should pick off right where it left off last year. The defense is expected to be even better too. I think the road to the Super Bowl goes thru Tampa Bay this year.
Boom: QB Tom Brady
Bust: TE Rob Gronkowski
Breakout: CB Carlton Davis
New Orleans Saints
Jameis Winston has won the quarterback job for the Saints and I actually think hes going to have a pretty good year. Only issue is star WR Michael Thomas acts like he doesn't even want to be on the team and replacing a legend like Drew Brees isn't easy. The Saints also had to cut half their roster to get under the salary cap and that's not going to be easy to replace all those players. I do think they'll compete for a playoff spot but fall just short in a loaded NFC.
Boom: RB Alvin Kamara
Bust: Saint's Tight Ends
Breakout: WR Tre'Quan Smith
Carolina Panthers
I'm just not a Sam Darnold guy. The Panthers aren't sold either or they wouldn't be right in the thick of the Deshaun Watson sweepstakes. I am excited for the return of Christian McCaffrey as he is one of the best players in the league and the Panthers have some good options on the outside the issue for me is Darnold. First round pick CB Jaycee Horn is going to be a beast but this defense is still a work in progress and I feel this team isn't going to be a playoff team until they upgrade at quarterback. Sorry Panthers fans Sam Darnold isn't it.
Boom: RB Christian McCaffrey
Bust: QB Sam Darnold
Breakout: CB Jaycee Horn
Atlanta Falcons
The Atlanta Falcons seem to be in a rebuilding transition even though they don't want to admit it. They decided against trading long time QB Matt Ryan this off season and didn't take a quarterback with their 4th overall pick in the NFL draft. Both decisions were mistakes IMO. They did trade Falcon legend Julio Jones which makes not moving Ryan more baffling. What ultimately is going to suffer is the team both short and long term and they don't have a ton of hope for this season as they will have one of the worst defenses and an aging offense as well as a first time head coach. 2021 will be a rough season for Falcons fans. It could be worse though, you could have blown a 28-3 lead in the Super Bowl. Oh wait…….
Boom: WR Calvin Ridley
Bust: Atlanta Running Game
Breakout: TE Kyle Pitts
NFC West Winner: LA Rams
LA Rams 11-6
San Francisco 10-7
Arizona Cardinals 10-7
Seattle Seahawks 10-7
LA Rams
Rams coach Sean McVay finally has a quarterback he can trust in newly acquired QB Matthew Stafford. The wide receivers and tight ends should all benefit from the upgrade at the quarterback spot. Newly acquired running back Sony Michel I'm not so hopeful for since he hasn't been able to stay on the filed most of his NFL career. The defense led by Aaron Donald and Jalen Ramsey should be once again great and the Rams are a force to be reckoned with in the NFC.
Boom: WR Cooper Kupp
Bust: RB Sony Michel
Breakout: WR Van Jefferson
San Francisco 49ers
The Trey Lance era is inevitable but in 2021 the 49ers appear to still be Jimmy G's team. It seems like the 49ers had half their team on IR last year and with them returning it should put them right back in the running in the NFC. This team has a very good and deep roster and Kyle Shanahan has proven to be a damn good coach. I do have the entire NFC West making the playoffs this year as I think they are easily the best division in the NFL. This is going to be a fun year in this division and a healthy and competitive 49ers team will help.
Boom: TE George Kittle
Bust: RB Raheem Mostert
Breakout: WR Deebo Samuel
Arizona Cardinals
The Arizona Cardinals, if the offensive line holds up, should have one of the top 5 offenses in the NFL. The additions of JJ Watt, AJ Green and James Conner will help even though I don't see Green as anything more than a 3rd receiver at this point in his career but the defense should be much improved and help keep the Cardinals in almost every game this year. Kyler Murray is on the cusp on super stardom and that should progress more this year. This is going to be a fun team to watch this year.
Boom: QB Kyler Murray
Bust: WR AJ Green
Breakout: RB Chase Edmunds
Seattle Seahawks
The Seattle Seahawks are now a full fledged offensive team first. Led by star quarterback Russell Wilson he alone will keep Seattle relevant. The performance of the defense will determine their season and how far they can go this year. The offense will carry this team most of the year but in the end I think the defense lets them down and we go into next off season wondering if Russell Wilson will be in Seattle in 2022.
Boom: WR DK Metcalf
Bust: RB Chris Carson
Breakout: TE Gerald Everett
Playoff Predictions
Wildcard Round
New England defeats Buffalo
Baltimore defeats Tennessee
Cleveland defeats Indianapolis
Dallas defeats Seattle
LA Rams defeats Arizona
Green Bay defeats San Francisco
Divisional Round
Kansas City defeats Baltimore
New England defeats Cleveland
Tampa Bay defeats Dallas
LA Rams defeats Green Bay
Conference Championship
Kansas City defeats New England
Tampa Bay defeats LA Rams
Super Bowl
Tampa Bay defeats Kansas City
MVP: Tom Brady
NFL Awards
MVP: Patrick Mahomes
Offensive Player of the Year: Tom Brady
Defensive Player of the Year: Aaron Donald
Offensive Rookie of the Year: Trevor Lawrence
Defensive Rookie of the Year: Micah Parsons
Comeback Player of the Year: Dak Prescott
Coach of the Year: Sean McVay
Be sure to check out The Buzz for all your sports, entertainment and wrestling needs as well as some great live shows and podcasts.