This past weekend was full of firsts. From the ARCA Menard Series at Salem to the Trucks, Xfinity, and Cup at Talladega, there was plenty of action… and plenty of firsts! In fact, NASCAR stated that this is the first time that there have been three first time winners in a single weekend at the same track.
The Trucks took to the track first at Talladega and what a show they put on. Dega is known for the Big One, and the Trucks did not disappoint by having more than one Big One. In fact, only 19 trucks were left to take the checkered flag. The race went to overtime, and behind the lead trucks, there was more wrecking. Notably, Tate Fogleman got his first Truck Series win. Other notable finishes were Spencer Boyd finishing 7th and Jordan Anderson finishing 11th. Anderson would also go on to compete in the Xfinity Series shortly after.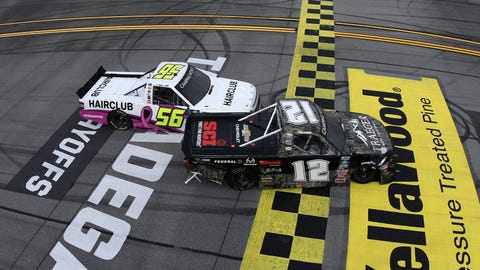 During the Xfinity race, there were more firsts to see. Notably, Blaine Perkins, in his 7th career start in the Xfinity series, won Stage 2. This was a first for Perkins to win a stage. But the biggest first came when Brandon Brown took the checkered flag in a shortened race due to darkness. Notably this was the first win for Brown with his family funded team. Other notable finishes included Jordan Anderson finishing 5th and Joe Graf Jr. finishing 10th. This was Graf's best career finish.
The Cup Series would not be outdone though. While the race was shortened by 71 laps due to rain, it still had all the excitement Dega has to offer. The drivers knew the rain was coming and raced every lap like it was the last. Notably, first year team 23XI, owned by Denny Hamlin and Michael Jordan, captured their first victory with driver Bubba Wallace. Notably, this is Wallace's first win in the Cup Series. Other notable finishes include Chris Buescher winning Stage 1 and Anthony Alfredo finishing 10th. This was Alfredo's first career top ten.
And even though the ARCA Menard Series did not compete at Talladega, this series kept with the trend of first-time winners. While Ty Gibbs led the first 155 laps of 200, he was not able to hold off Jesse Love on the final restart. Love beat Gibbs to the start-finish line after the restart but was not able to clear him for several more laps. Once he did though, there was no looking back. Notably, Jesse Love earned his first win in the ARCA Menard Series. Other notable finishes were Gracie Trotter finishing 5th and Rajah Caruth, in only his 4th ARCA start, finishing 3rd.