Here we go. This is going to piss people off but I really do not care. You have WWE loyalists and AEW loyalists which is fine. You also have people that watch both which is excellent to. I knew before AEW came on air a few years ago that the one thing that would come from this would be absolute chaos between wrestling fans. If you don't believe me, jump on twitter on a day the TV ratings come out and tell me I'm wrong. I do understand people wanting a fresh alternative and for the wrestling business to be successful we need healthy competition, but it has been a worrisome month or so for AEW and I honestly don't think people realize it. I have watched AEW and there are parts of their show I really enjoy as well as some that baffles me that it's actually on TV. Have no fear though as I am going to give you the 5 things AEW need to do to improve their show. Yes, I know some people are going to get mad and butt hurt about this and it's fine. Heat up your pizza rolls, go back down to the basement, and turn on Family Guy as your mom does your laundry. Things will be okay.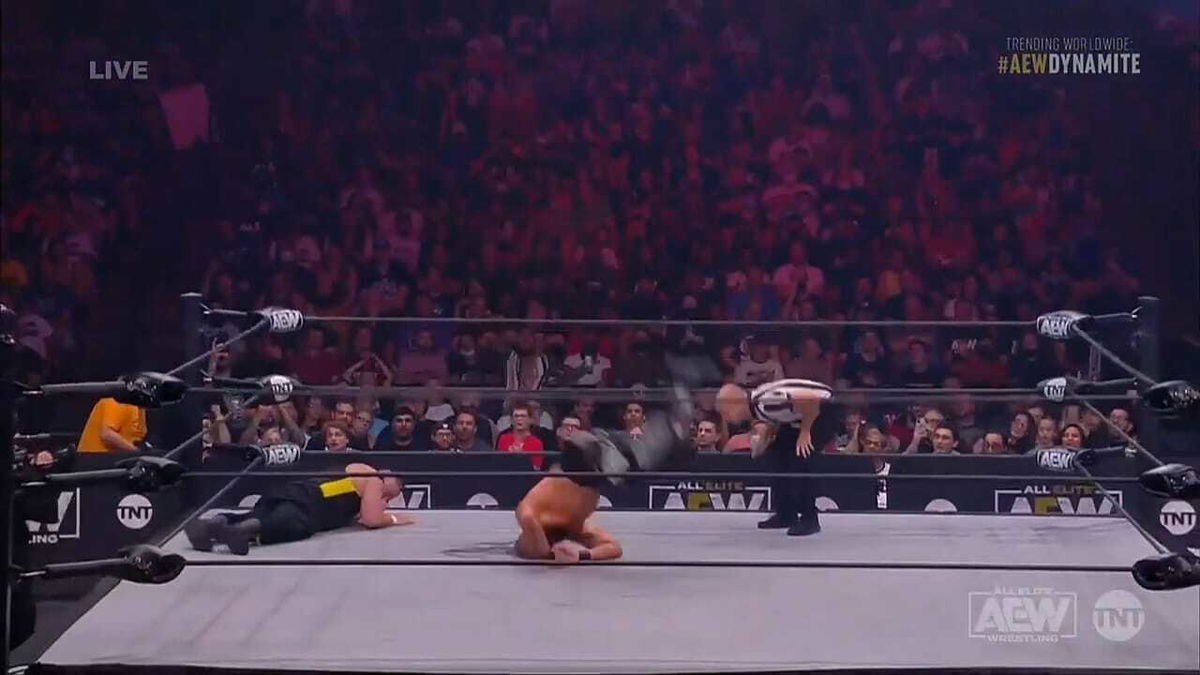 5) Maybe You Do Need A Performance Center?
They don't need a Performance Center huh? Look at the above picture. Lance Archer could have ended his career and thankfully it didn't. Like my co host on RSH (my podcast which airs every Thursday at 6 ET on The Buzz's FB Page) says "Every wrestling company has botches." Yeah that's true but other wrestling companies don't come out saying they don't need a PC (a shot at WWE for properly training their talent, HOW DARE THEY) and the botches are numerous and glaring as you can see 5-10 of them per show sometimes even per match. Don't believe me check this out.
If you don't follow @aewbotches you should do so. But my point is focus on getting the talent properly trained to be in the ring before there just thrown out there. There is a reason WWE has a PC and it's to avoid injury and putting talents health at risk long term. You might want to invest in a PC Tony, the letting them wrestle on Dark and Elevation ain't cutting it, ask Abadon.
4) Fix Women's Division
First let me say AEW has a loaded women's division with a lot of talent. Britt Baker is a star. Thunder Rosa is a rapidly rising star. I guess that's why Baker and Rosa had the best match not only for the women in AEW but maybe the best match of the whole year. I think they need to invest more time and effort into the division if it's going to continue to grow and be successful. They need more TV time and they really need to build up more women outside of Britt. You don't have to take the belt off of her you can use her to someone over without losing. You don't have to go over to get over as Bully Ray would say. Just invest more time in developing the talent you have in this divison and it should naturally improve. You have the talent use it.
3) Stop Signing Everyone and Focus on Who you Have Already
What was that quote from Cody. You know the one. Per Fightful: "I've jokingly said it's currently at about 5% — Chris Jericho, Jim Ross, Cody Rhodes. A few others, maybe. It's not the same. Having that equity with WWE is wonderful but you've got to be able to cut it and meet the standards that people have for their actual bell-to-bell contest. That number might increase. There being the opportunity to exist for the boys and girls to make more money, here or there. Just to have options. If they can play, they're gonna play," said Cody. "But right now, the recruitment is more about 'freshmen.' I want to build a new class of guys. I don't them to feel like they were set up and that was it. I want them to feel like they were set up to win and succeed. Right now, it's a lot of faces you've never seen and people you'll be surprised when you do see them." So you can see how that went. Just signed Tony Nese and they are hell bent apparently going after Bray Wyatt. I mean why even say such a thing if your not going to even remotely stick with it. New talent. AEW has that and they should use and focus on guys like MJF, Hangman Page, Darby Allin, Jungle Boy, Wardlow, and many more. But no they sign a guy every other week put them in a high profile match then they are on AEW Dark the week after. Darby for example should have beaten Punk. You could use Punk being away for 7 years and slowly get him back to "The Best in the World" while getting over younger guys. But why do that. Let's wait for WWE to release someone and we'll bring them in instead. Good call Cody. At least your honest right?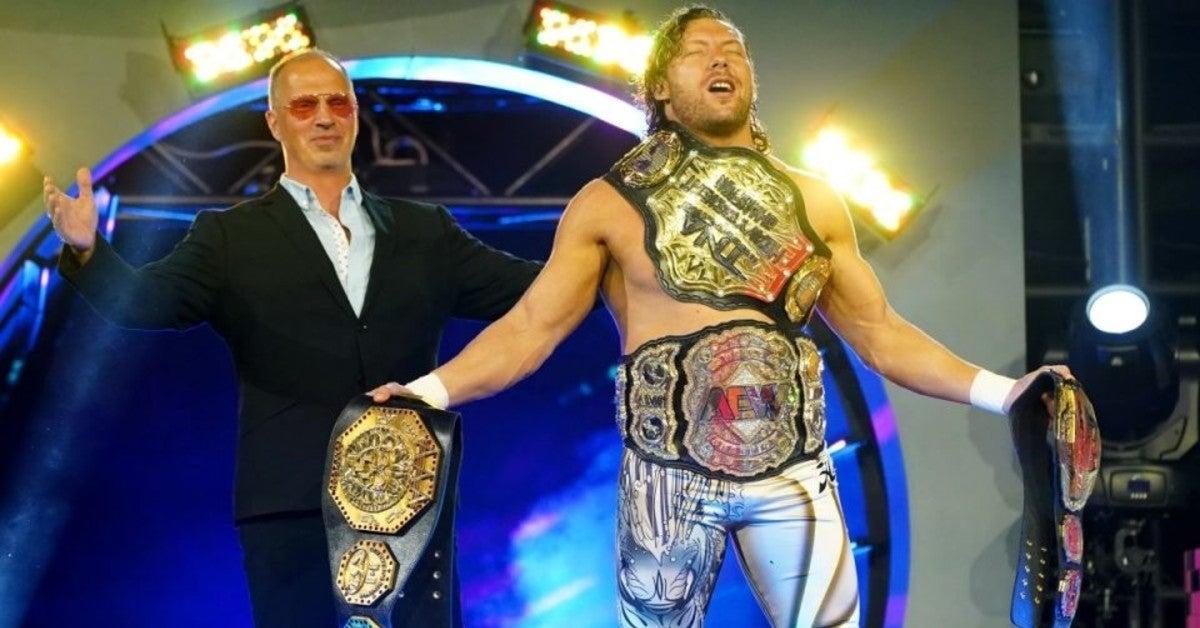 2) Build Stories and Get People Invested
Question. What storyline has Kenny Omega had that you were like damn this is a great story? Yeah, me either.
Give that a listen and he is dead on. Roman Reigns is probably in the best story right now in wrestling. The Adam Page stuff is good in AEW too but that's the only thing they have and I mean the only story. AEW has this thing with just throwing two great talents in the ring together for no reason with no story and wondering why the ratings don't improve. You need emotional investment and someone like Kenny Omega gives a fan no reason to even care. He's a great wrestler. Yeah well, most of these men and women are that's why they are where they are the difference is connecting with the fan and getting them invested which I feel AEW really struggles with. We need less "dream matches" and more stories.
Bischoff is dead on the money here. Gotta give fans a reason to want to tune in every week. Dream matches and introducing new ex- WWE talent you signed can only get you by for so long. Just look at your ratings. Speaking of.
1) Get the WWE's Name Out of Your Mouth and Shut up about Ratings
These two guys are pimples on the ass of wrestling. Dave Meltzer and Bryan Alvarez are both absolute jackasses and they hurt the wrestling business as a whole. Their AEW bias is so obvious and the constant amount of false information is laughable. These two are most likely why AEW's Tony Khan is so hell bent on hyping up his ratings "win" even though they really didn't win shit. Below is the Rampage ratings since its debut. See the trend there? Yeah ever since CM Punks debut the show has shit the bed. They just had punk wrestle on the show last week and what did actually do? How do you go from 1.129 million to 533,000 in 2 months when "the hottest star in wrestling" is wrestling on your show. I didn't forget about Dynamite either as they are struggling to hit a million a week even though every week is some super card. "Grand Slam" "The First Dance" just to name a few. No wonder you do four PPVs a year because you do one pretty much every other week on TV. Look at the chart its working right?
| Date | Viewership | 18-49 Demographics | vs Previous Week |
| --- | --- | --- | --- |
| 22 October | 533,000 | 0.22 | -45000 |
| 15 October | 578,000 | 0.24 | 76000 |
| 08 October | 502000 | 0.17 | -120000 |
| 1 October | 622,000 | 0.25 | -18000 |
| 24 September | 640,000 | 0.29 | -2000 |
| 17 September | 642,000 | 0.28 | -28000 |
| 10 September | 670,000 | 0.27 | -26000 |
| 3 September | 696,000 | 0.30 | -24000 |
| 27 August | 720,000 | 0.34 | -399000 |
| 20 August | 1,129,000 | 0.53 | +379000 |
| 13 August | 740,000 | 0.30 | – |
Tony Khan, you didn't beat WWE or Smackdown at anything. On a lower tier cable network they still beat you by 30% and hell their Smackdown re run got more viewers than your live Dynamite. Or did you somehow win that too? The obsession you have with WWE is obvious. Look at the talent, all you hear at least a few times a week is a shot at WWE. Worry about your product and the fact the viewership is inconsistent and seemingly not growing. Your show is on a Wednesday so you can't compare it to Raw on Monday who actually has head to head competition with Monday Night Football to which your competition on Wednesday is what exactly? If you want to brag about winning head to head with them then go head to head. Man up, put all your chips in and go for it. Do I think you should? Nope. Probably would be a horrible mistake. Get the WWE's name out of your mouth, stop ass kissing Meltzer and give it up with the demo shit. I never heard any of this demo stuff until AEW became a thing. Don't tout a particular demo just because your sow is struggling with everything else. I'll leave with this. A quote from one of my favorite people in wrestling. Don't poke the bear (Vince) just shut up and wrestle Tony.
Be sure to check out The Buzz for all your wrestling, sports and entertainment needs as well as some great live shows and podcasts.