If you missed the Tale of Two Toms or need a refresher on the rules, see this Tale of Two Tom's. As before, I'll start with a year-by-year and then go into more detail.
I titled the post "The Leading Men" because I believe over the past 40 years no one has embodied the concept of the leading man more than these 3 actors. You may disagree, so to preempt your complaints, I offer my due respect to Matt Damon, Ben Affleck, Johnny Depp, Will Smith, Russell Crowe, Bradley Cooper, and anyone else I might have forgotten that you think should be included. Instead of any of them, I present to you the 3 greatest leading men of the past 4 decades (in alphabetical order to not ruin the surprise): Christian Bale, Leonardo DiCaprio, and Brad Pitt.
Now to the year-by-year analysis:
1987
Pitt: Less Than Zero (uncredited); No Man's Land (uncredited); Hunk (uncredited)
Bale: Empire of the Sun; Mio in the Land of Faraway
Leo: Nothing
Pitt has 11 years on the other two so he got started earlier but in his debut roles he served as little more than "shirtless guy in the crowd." Bale in Spielberg's Japanese self-discovery film put himself on the map as a 13-year-old.
[0-1-0]
1988
Pitt: Dark Side of the Sun
Bale & Leo: Nothing
Pitt's older and has done about twice as many movies, so he'll get some free years.
[1-1-0]
1989
Pitt: Happy Together; Cutting Class
Bale: Henry V
Leo: Nothing
Pitt, as a teen, gets a prominent role in the bad 80's murder flick Cutting Class but Bale's doing Shakespeare.
[1-2-0]
1990
Pitt: Across the Tracks
Bale & Leo: Nothing
Another freebie for Pitt.
[2-2-0]
1991
Pitt: Johnny Suede; Thelma & Louise
Bale: Nothing
Leo: Critters 3
Essentially another freebie for Pitt, he's starring in these movies as a teenager and they're making money. Leo does debut, albeit quietly in a bad Gremlins knock-off.
[3-2-0]
1992
Pitt: A River Runs Through It; Cool World
Bale: Newsies
Leo: Nothing
Pitt does a Robert Redford father-son flick and a bizarre animated/real life crossover neither of which garner much respect. Bale shows off his multiple talents in the adaptation of the Broadway play.
[3-3-0]
1993
Pitt: True Romance; Kalifornia
Bale: Swing Kids
Leo: What's Eating Gilbert Grape; This Boy's Life
Bale goes for music again in a poorly received Nazi-era film, and Pitt appears in Tony Scott's ensemble and tries out the serial killer look. However, Leo receives his first Oscar nom with a brilliant performance in the Depp-led drama to take his first year.
[3-3-1]
1994
Pitt: Legends of the Fall; Interview with the Vampire: The Vampire Chronicles
Bale: Little Women; Royal Deceit
Leo: Nothing
Pitt stars alongside Cruise in Vampire and with Sir Anthony Hopkins in the Oscar-winning Legends. Bale is a key part in the Oscar-nominated Little Women, and stars in a failed period film. Advantage Pitt albeit slightly.
[4-3-1]
1995
Pitt: Twelve Monkeys; Se7en
Bale: Pocahontas
Leo: Total Eclipse; The Basketball Diaries
Pitt gets his first Oscar nomination in Terry Gilliam's dystopian film and stars in the dark and fabulous David Fincher mystery Se7en. Bale gives a voice to our favorite American Indian princess' boyfriend and Leo puts out a couple subpar flicks, one a romance the other a drama.
[5-3-1]
1996
Pitt: Sleepers
Bale: The Secret Agent; The Portrait of a Lady
Leo: Marvin's Room
Pitt stars in the brutal and controversial Levinson film that garners an Oscar nomination for the gorgeous John Williams' composition. Bale makes a poor crime drama, but also works alongside Oscar nominated Barbara Hershey in a period piece. DiCaprio stars in a well-received drama with Meryl Streep and Oscar nominated Diane Keaton. It's very hard to give this year to any of the 3, Bale did the extra movie but it was bad. None of the Oscars given in the other 3 pertain to our stars. Metacritic likes Marvin's Room slightly better than Portrait of a Lady and a lot more than Sleepers – so to Leo, it goes.
[5-3-2]
1997
Pitt: Seven Years in Tibet; The Devil's Own
Bale: Metroland
Leo: Titanic
The other two could've made 20 movies each and Leo's career-defining role in James Cameron's epic would've won him the year.
[5-3-3]
1998
Pitt: Meet Joe Black
Bale: All the Little Animals; Velvet Goldmine
Leo: Celebrity; The Man in the Iron Mask
Pitt makes a rather odd romance, Bale tries his hand at playing a handicapped boy and works with Ewan McGregor in the well-received Brit-Rock drama. Leo does a collaboration with Woody Allen which bombs and the fairly successful Disney Dumas adaptation. Bale gets the nod here as Velvet Goldmine is easily the most successful film for the 3. I'll admit the only one of the 5 films here I've seen so far is Man in the Iron Mask and Leo is quite good in it but I stand by my logic.
[5-4-3]
1999
Pitt: Fight Club; Being John Malkovich (uncredited)
Bale: A Midsummer Night's Dream
Leo: Nothing
Bale is back doing Shakespeare but he can't compete with Pitt's 2nd David Fincher collaboration which received an Oscar nom and is somehow simultaneously underappreciated and overrated.
[6-4-3]
2000
Pitt: Snatch
Bale: Shaft; American Psycho
Leo: The Beach
Pitt is show-stealing and fantastic as the barely understandable "pikey" in Guy Ritchie's British gangster flick. Leo does an off-beat "find yourself" adventure. Neither of them can compete with Bale's first career-defining role as the horrifying serial killer with a plastic face in American Psycho. Feeling particularly evil this year, Bale also plays one of the villains in the Samuel L led Shaft.
[6-5-3]
2001
Pitt: Ocean's Eleven; Spy Game; The Mexican
Bale: Captain Corelli's Mandolin
Leo: Don's Plum
Leo puts out a low budget teen angst flick which does nothing. Bale works with Nic Cage in a WWII romance bust. Pitt does a very strange Verbinski adventure-comedy with Julia Roberts, a well-received thriller with Robert Redford, and a franchise-launching blockbuster hit in Soderbergh's ensemble heist film. Pitt just never stops.
[7-5-3]
2002
Pitt: Confessions of a Dangerous Mind; Full Frontal
Bale: Equilibrium; Reign of Fire; Laurel Canyon
Leo: Catch Me If You Can; Gangs of New York
Some solid work from Pitt and Bale (I really like Reign of Fire) but Leo works with Day-Lewis and Scorsese in the staggeringly 10x Oscar-nominated period thriller AND the Oscar-winning (Walken, best supporting) Spielberg-Hanks collaboration. Possibly the best single year in their collective careers.
[7-5-4]
2003
Pitt: Sinbad: Legend of the Seven Seas
Bale & Leo: Nothing
Pitt just doesn't take years off. Not to ruin any suspense, but he doesn't take a single year off the whole way through 2019. Just consistently cranking out movies.
[8-5-4]
2004
Pitt: Ocean's Twelve; Troy
Bale: Howl's Moving Castle; The Machinist
Leo: The Aviator
Pitt cashes in on the Soderbergh ensemble again and does the exciting mythological thriller, which I found a bit underwhelming but it was certainly a blockbuster. Bale provides his voice to the English version of the sometimes considered greatest Japanese-anime film to reach American audiences and does crazy again in a twisty psychological drama. Bale's physical transformation for The Machinist is well-documented but is undeniably incredible. However, Leo teams back up with Scorsese and The Aviator takes home 5 Oscars and gets 6 additional nominations including his 2nd nomination for Best Supporting Actor.
[8-5-5]
2005
Pitt: Mr. & Mrs. Smith
Bale: The New World; Harsh Times; Batman Begins
Leo: Nothing
Pitt provides what is now his signature charm in a delightful spy flick but can't hold a candle to Bale's second great career-defining role in Christopher Nolan's initial Batman installment. The physical change from The Machinist to Batman Begins is mind-blowing.
[8-6-5]
2006
Pitt: Babel
Bale: The Prestige; Rescue Dawn
Leo: Blood Diamond; The Departed
Pitt stars in Iñárritu's Oscar-nominated multi-threaded drama alongside a large ensemble. Bale reunites with Nolan in one of the greatest films all-time, and stars in a well-received Werner Herzog war drama. But, Leo gets another Oscar nomination in Blood Diamond and gives what I believe is his best performance in the 4 Oscar-winning Scorsese thriller The Departed. There are a number of fantastic movies in this article but The Departed may be the best. I'm tempted to give the year to Bale anyway because his performance in The Prestige is so good but the combination of the Oscar nomination and the quality of The Departed is too much for Leo.
[8-6-6]
2007
Pitt: The Assassination of Jesse James by the Coward Robert Ford; Ocean's Thirteen
Bale: I'm Not There; 3:10 to Yuma
Leo: Nothing
Of the films I haven't seen in this list – The Coward Robert Ford is the one I want to see the most; it was well received and Pitt's co-star Casey Affleck received an Oscar nomination. But Bale is great in the blockbuster 3:10 to Yuma and stars in the Bob Dylan bio which gave Cate Blanchett an Oscar nomination. I'd recommend watching all four of these movies, great stuff. Advantage Bale.
[8-7-6]
2008
Pitt: The Curious Case of Benjamin Button; Burn After Reading
Bale: The Dark Knight
Leo: Revolutionary Road; Body of Lies
Michael Shannon got an Oscar nomination in the Sam Mendes drama Leo starred in, while his Russell Crowe/Ridley Scott collaboration was a bit underwhelming. Bale reprised his role as Batman in another of the films that have a claim on "best of this list" and won Heath Ledger his posthumous Oscar. This time, however, the Academy is in Pitt's favor, his Coen bros collaboration, Burn After Reading, demonstrates a side of Pitt rarely seen and the F Scott Fitzgerald adaptation got him an Oscar nomination. It pains me greatly not to give this year to Bale but the personal achievement of Pitt wins out.
[9-7-6]
2009
Pitt: Inglorious Basterds
Bale: Public Enemies; Terminator Salvation
Leo: Nothing
Bale stars in a pair of blockbusters – the Terminator iteration less successful than the Depp gangster biopic. Pitt, on the other hand, gives us another wonderfully bizarre performance in what I believe is Tarantino's best film.
[10-7-6]
2010
Pitt: Megamind
Bale: The Fighter
Leo: Inception; Shutter Island
Pitt lends his voice to the hilarious animated Will Farrell feature. Leo flexes his star power in a gritty, mind-bending horror flick and the Nolan, 4 Oscar-winning all-time great. Bale just wins the Oscar for male lead – the first Oscar won by the 3 – by completely transforming himself again into the skinny former boxer Dicky Eglund. Leo arguably has the better year, because Inception is one of the greatest movies ever and Shutter Island is amazing and they both owe much of their success to his work. But the Academy picked Bale, and somewhat begrudgingly so will I.
[10-8-6]
2011
Pitt: Happy Feet Two; Moneyball; The Tree of Life
Bale: The Flowers of War
Leo: J. Edgar
Bale stars in a failed film set in China. Leo tries his hand at the biopic and has nominal success in the Eastwood-directed film. Pitt stars in the critically beloved story of faith and family, cameos in the animated sequel, and receives 2 Oscar nominations (Best Actor, Best Film) for the simply wonderful Baseball flick.
[11-8-6]
2012
Pitt: Killing Them Softly
Bale: The Dark Knight Rises
Leo: Django Unchained
Pitt stars in a fairly well-received gangster flick but is a distant third in 2012. Bale complete's Nolan's Batman trilogy with, in my opinion, the weakest complete film of the franchise but in no part due to his performance. Leo collaborates with Tarantino in the Wild West romp starring Jamie Fox and getting Christoph Waltz an Oscar. It is a crime Bale only got the belt the year the 1st Batman was released, but it's how I see it. This will start an unbelievable run for Leo in terms of roles, as we'll see.
[11-8-7]
2013
Pitt: The Counsellor; 12 Years a Slave; World War Z
Bale: American Hustle; Out of the Furnace
Leo: The Wolf of Wall Street; The Great Gatsby
All 3 actors are at the height of their stardom. Bale received an Oscar nomination for his role in American Hustle and stars in the overlooked but critically appreciated crime thriller (produced by Leo). Leo stars in a pair of Oscar recognized films. Pitt stars in the offbeat but ultimately disappointing Ridley Scott thriller, his most commercially successful film running from Zombies, and wins his Oscar as a member of the production team for 12 Years a Slave. Of any of the years, this is the toughest. Pitt wins a production Oscar, Bale is nominated for an Acting Oscar, and Leo stars in 2 of the most successful films of the year and is also nominated for an Acting Oscar. Slight Advantage Leo.
[11-8-8]
2014
Pitt: Fury
Bale: Exodus: Gods and Kings
Leo: Nothing
As if to catch their breath from the stunning output of 2013. Leo takes a year, Bale does a Ridley Scott rendition of the Exodus to mixed reviews. But Pitt keeps churning out successful films with his tank-centric World War II film.
[12-8-8]
2015
Pitt: The Big Short; By the Sea
Bale: The Big Short; Knight of Cups
Leo: The Revenant
Bale and Pitt star in the multiple Oscar nominated "economic comedy" which is frankly a brilliant movie. Bale receives an Oscar nomination for his role while Pitt is included in the production team's nomination. Neither of their other offerings is much to write home about. Leo finally wins his Oscar.
[12-8-9]
2016
Pitt: Allied
Bale: The Promise
Leo: Nothing
A period romance gets mixed reviews for Bale. Pitt's WWII romance gets a non-acting Oscar nomination. Despite some negative chatter, Allied did much better, advantage Pitt.
[13-8-9]
2017 (13-9-9)
Pitt: War Machine
Bale: Hostiles
Leo: Nothing
Bale's return to the Western genre is met with very positive reviews while Pitt's Netflix original is both funny and original. Slight advantage Bale.
[13-9-9]
2018 (13-10-9)
Pitt: Deadpool 2
Bale: Vice; Mowgli: Legend of the Jungle
Leo: Nothing
Pitt had a brief cameo in Reynold's sequel making 2018 the closest he came to taking a year off. Bale reunited with Adam McKay and Steve Carrell in a Dick Cheney biopic which demonstrated yet again that he can do anything. He also lent his voice to Andy Serkis' retelling of The Jungle Book.
[13-10-9]
2019
Pitt: Once Upon a Time in Hollywood, Ad Astra
Bale: Ford vs Ferrari
Leo: Once Upon a Time in Hollywood
Tarantino, always one to give the people what they want, brought Pitt and Leo together for the first time in a delightfully ambitious film. Bale got an Oscar nomination for his work in Mangold's racing film and was quite good, but it's Pitt who's relentlessness earns another year. He took home the Best Supporting Oscar in a film which featured him flawlessly playing a supporting Actor and explored fatherhood in the interesting (but ultimately incomplete in my opinion) space epic.
[14-10-9]
2020
All 3: Nothing
COVID? Busy schedules, the success of the last few years, all probable factors in the 3 leads taking that past year off. But none of them appear to be ready to retire.
Future Roles
Pitt: Babylon, Bullet Train
Bale: Thor: Love and Thunder; David O Russell Project
Leo: Don't Look Up, Roosevelt; Killers of the Flower Moon; The Black Hand
As for the future – Leo has the most announced potential, particularly with his next Scorsese project. Pitt might also have a World War Z sequel floating out there somewhere in production limbo but both of his announced titles are tantalizing in their own way. Bale's most recent flip to antagonist and insertion into Marvel may actually be the most intriguing of the three in terms of curiosity.
Factor #1 – Best Year Title Belt
So our final score:
Brad Pitt: 14 years
Christian Bale: 10 years
Leonardo DiCaprio: 9 years
However, Pitt got '03, '90, and '88 based simply on the fact he was the only one with a movie those years. So, excluding them, it's 11 to 10 to 9 (COULD WE GET ANY MORE EVEN?). This category goes to Pitt, but for the reasons mentioned is as close as it gets.
Factor #2 – Money
Christian Bale's net worth is estimated at $80 million by wealthygorilla.com. Brad Pitt's is nearly 4x that at $300 million. Leo a little below that at approximately $260 million.
Domestically, Bale's films have accrued $2.5b with seven of his qualifying 44 projects making less than $1mm. On the higher end, seven have made more than $100mm with the Batman trilogy in the top 3 spots, The Dark Knight and it's $535mm in the top spot. He has averaged approximately $60mm per role but if his films are filtered down his 32 leading/lead ensembles it rises to $69mm.
Leo only has 32 qualifying titles but has pulled in $2.7b total. Only five of his have made less than $1mm while 11 have crossed the $100mm threshold. Titanic the comfortable leader with $659mm domestically (over $2b worldwide). With the larger total over a smaller number of roles, Leo's average is way up at $93mm and jumps to $109mm in his leading/lead ensemble roles.
Pitt has 50 qualifying titles giving him an obvious advantage in the lump sum, which comes in at $3.3b. Six of his films failed to cross $1mm but 13 made over $100mm. Although his appearance is for seconds (and was disputed for a short time) Deadpool 2's $324mm is actually his most financially successful film. His average is $71mm per but since a cameo was his biggest ticket, when filtered to lead/lead ensemble it actually drops to $64mm a film.
So financially – Leo a significant advantage.
Factor #2 – How good an actor?
I'll analyze them each and then call a winner. First, Brad Pitt.
His career has been marked by offbeat, odd, bizarre roles. The Vampire in Interview, the goofball in Burn After Reading, the American stereotype Lieutenant in Inglourious, the pikey in Snatch, the clueless genius in War Machine. But his primary role is that of the alpha male – World War Z, Ocean's franchise, Fight Club, Se7en, Sleepers. His characters have conviction, are streetwise, and are survivors. He is possibly better in supporting roles, as exemplified by his utter perfection as Cliff Booth in Once Upon a Time.
The two most impressive performances of his career encompass both the oddball and the alpha male aspect. In Benjamin Button, he manages to convey both youth and age simultaneously – a seemingly ridiculous juxtaposition which he portrays extremely convincingly. In Moneyball, his outsider ideals are born of his confidence – Billy Beane is a Tyler Durden-type (Fight Club) in many ways, tearing down the system and making disciples – yet he's a real person.
His looks, while an important aspect of his early career appeal, have not prevented him from taking gritty minor roles (Snatch – what a show-stealer) or important period roles (12 Years).
Next, Christian Bale.
One of the most successful transitions from child star to legit leading man in Hollywood history, Bale has reinvented himself several times. In his youth, he was a singer, a dancer, and a heartthrob. Then he was Batman, he slew dragons, he murdered women, he stole paintings, and he made magic. None of these roles is remotely like the previous. Not to be quite pigeonholed into the label "method actor" he nonetheless has gone through some extreme physical changes for his roles – bulking up to be Batman, Dick Cheney, and a dragon slayer (Reign of Fire) while being a chillingly normal white upper-class male in Psycho and dropping to extremely thin weights for Machinist and his Oscar-winning role in The Fighter.
The performance that impressed me [Extreme Spoiler] most was when he played twin brothers in The Prestige. He is the same, so much so that the reveal explodes. But he is different, just enough that the second time through you see it. Pure genius.
Finally, Leonardo DiCaprio.
Early in Leo's career, it was all looks. However, as time has gone along, he's demonstrated he's much more than a "pretty face."
His characters are often youthful, optimistic, and energetic. He's worked with the best directors in the biz such as Scorsese, Spielberg, Nolan, and Tarantino and each film is vastly different from the others. He does tend towards protagonists but his turns on the other side of the moral divide have been just as convincing (Django, Wolf of Wall Street).
Some of his characters are saner than their surroundings (Inception, Titanic, Catch Me) others are off the rails crazy (Aviator, Iron Mask, Shutter Island). His Oscar is a controversial subject. He has almost no lines in the entire film and spends a great deal of it lying on his back. However, the transformation of his extremely recognizable voice, as well as the ability to pull in the audience without speaking and without hardly moving, is brilliance on display.
This is easily the most subjective of the categories. However, I feel Christian Bale has the advantage both in the extreme disparity of his characterizations as well as the dedication to his craft. This is not to say Brad Pitt or Leonardo DiCaprio is second-rate. It instead speaks to the immense talent possessed by Bale.
Factor #4 – Who Won the most Awards?
All 3 have one acting Oscar. Pitt has a production one as well.
Pitt's first was as a member of the production team of 12 Years a Slave. He holds 2 other nominations as a producer (Big Short, Moneyball) and 4 nominations for Acting in a supporting role (12 Monkeys, Once Upon a Time in Hollywood) and a lead (Benjamin Button, Moneyball). He's won 117 awards across 200 nominations. Including a Razzie for Interview with a Vampire (Worst couple, shared with Tom Cruise). His Oscar for Best Supporting in Once Upon a Time was accompanied by a Golden Globe, BAFTA, Critics Choice, Screen Actors Guild, Golden Schmoe, etc. 31 awards in all.
Bale won his for the extreme role in The Fighter. He has 2 other nominations as an actor (American Hustle, Big Short). He's won 79 awards with 126 nominations (No Razzies). Nine fewer nominations than Pitt has wins.
Leo won his Oscar for The Revenant. Received nominations as an actor 5 other times, supporting (Gilbert Grape) and as a lead (Once Upon a Time in Hollywood, Wolf of Wall Street, Blood Diamond, The Aviator). He also shared a nomination on the production team for Wolf of Wall Street. He has 100 awards and a staggering 248 nominations over his career. This is with significantly fewer credits than Pitt and Bale. He has won a Razzie (worst couple, with himself for Iron Mask) and was nominated for another as the worst actor (The Beach).
The combination of fewer credits with more wins and nominations than the other two gives DiCaprio the category.
DiCaprio takes the Win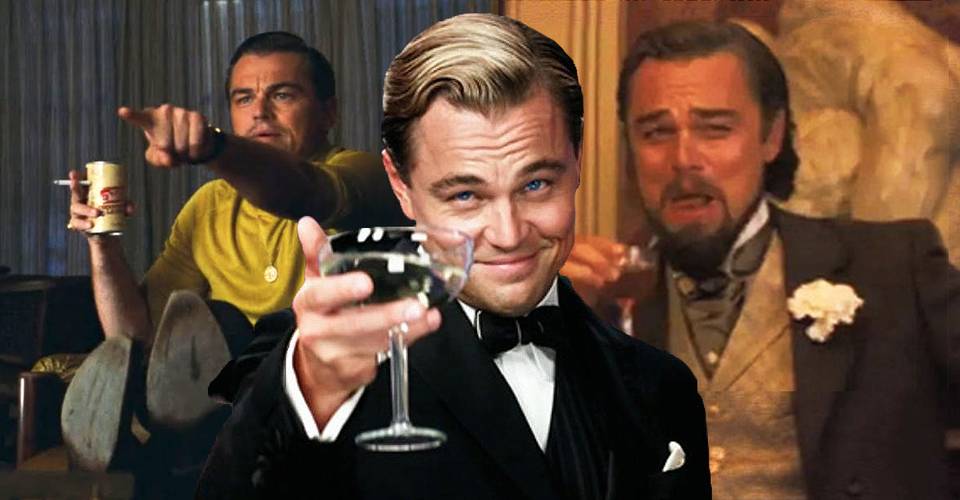 So – the data says Leonardo DiCaprio is the "best" of these 3 (and I'd argue of my lifetime excluding two men named Tom). What say you?